April & Easter, the classic markers for springtime (technically March 20th marks the start of spring) throughout the country. Grass is green, flowers are blooming… and there's a snowstorm outside.
Here in Minnesota, spring has not sprung. No green to be found, batches of snow every other day and blustery winds doing their best to hold tightly to the winter season. When the snow wanes, the grass ranges in color from pale gold to brown, the trees are skeletal and the landscape monochrome in browns. A unique kind of pretty that reigns from October until May. Pair with golden hour light and the landscape becomes quite magical. 
Saturday, mid morning, the temp to reach mid to high 30s. Heritage Park in St. Cloud MN – tucked behind Costco with a maze of paths that wander through woods, grassy areas and over a pair of bridges. An area that I haven't frequently visited, even though it is centrally located in town. My friend Tiffany of TEM Photography brought out her two dogs – Finn & Ranger – and wee daughter and made our way into the park.
EGADS! The wind was TERRIBLE. It huffed and puffed with icy breath all while threatening to turn the softbox into a kite. Frozen fingers, frozen ears, hair styled in windswept chaos, are we sure it's spring? 
Due to the wind and chill of the air we didn't explore the park deeply – we did find a super cool long grass area with logs in it. Ranger posed like the old pro he is, while Finn preferred to play gopher behind the log. 
Shifted down the gravel path to one of the bridges. Its a super quaint bridge over a good size pond. We we less blustered by the wind which was delightful.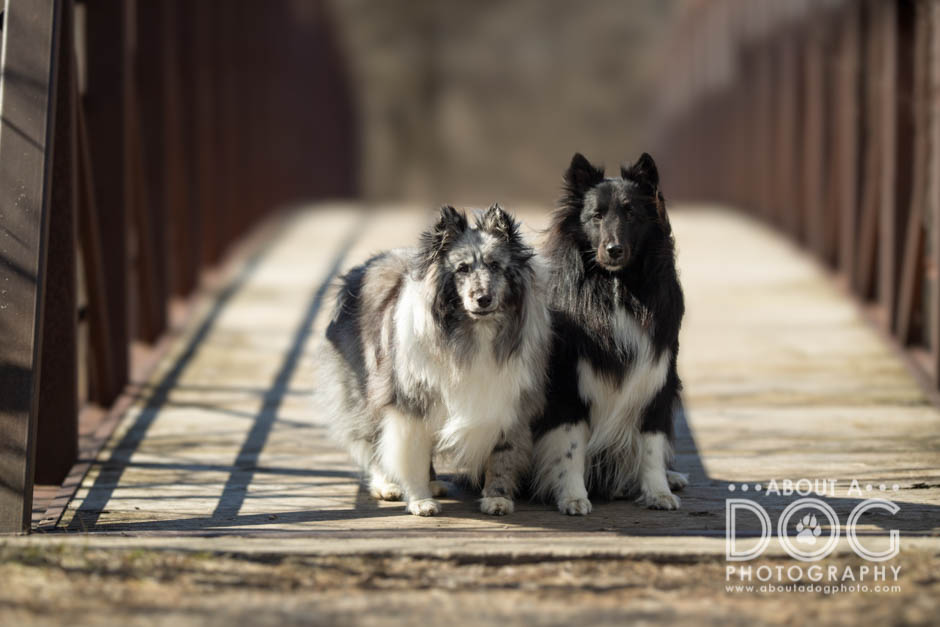 From the bridge we wandered back towards the Stearns History Museum. The museum is a low slung building with quaint sets of small stairs that lead up to a block "patio". Still no spring color or sense of spring, but the stairs were charming. Ranger tapped out and Finn took his place with his majestic mane. 
We wrapped up on our quest for spring and grabbed some warm coffee. It was fun to be out! I can't wait until the weather stays warm and the landscape shifts out of the brown tones of late fall and winter. 
If you want to explore Heritage Park with me for a session, let's get it set up! Email me or pick the perfect date from the online schedule!