EEEEEEK! The fall colors are starting to shift into technicolor!
Enter in the pumpkin spice, Halloween decor… oh wait, they arrived in August bwahahahaha! (Halloween around my birthday is never a bad thing as its one of my favorite holidays! Skulls, bats and zombies, be still my heart!)
Anyhoo… fall colors and summer weather (80s!) makes for a lovely start of the fall season. Sorry I lost my train of thought a bit… haha!
Let's talk leaf color changes: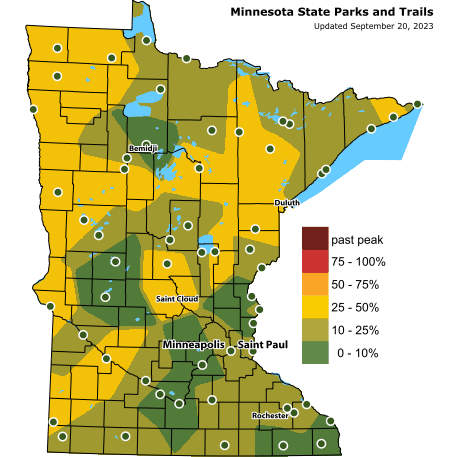 WOAH!!! There are already points of 25-50% PEAK COLORS around the state! And we're only at September 20th, nearly a whole whopping month early for colors! Mid October tends to be peak season. Though as reported via WCCO, the fall colors most likely will arrive EARLY this year due to the lack of rain we got. 
It looks like the North Shore is getting started as well. 
Which means… the Dogs of the North Shore book sessions ought to have some MEGA pretty colors and wimpy waterfalls haha!
And speaking of the Dogs of the North Shore, did you know you can still book your session? (Book here) And that you will have until NEXT MONDAY, September 25th to snag your session before booking closes! That's less than a WEEK AWAY!!!!!!!!
You need a reason to snag your session?
A portion of the session fee goes straight to Ruff Start Rescue! 
EPIC locations including nearly a bazillion waterfalls
Fall colors and the North Shore
Updated awesome portraits of your pup (you can jump in too!)
Did I mention EPIC locations?
Booking is easy peasy! Head here: calendly.com/aboutadogphoto and pick your location. Times are set for each location (Gooseberry Falls is in the morning, Palisade Head is in the evening etc) so pick your location and you'll automatically get a time. Ta-dah!
** Also note: you can book a Digital Dog Session or Puppy Series session via the link as well. Pick them if you want a full sized mega awesome session with your dog. Great for updated family portraits and holiday greeting cards! 
PSSST! If you can't make the September 29th – October 1st times, let me know and we'll do some mega secret planning! 
---
Get out enjoy those fall colors with your pup!