Making collars for my dog – and also for yours!
Indeed, when I'm not capturing immortal images of your dog, I'm crafting MEGA awesome wearables for your dog as Atomic Collars! From collars, to neckerchiefs, to leashes and harnesses – each is made from upcycled, small batch, found materials. Neckties, sleep pants, blouses, skirts, pillowcases & shower curtains, if it's material is prone to be given a new life as a BOMB dog collar.
And yes, Icey, Axle and Bender all had a wardrobe – Bender may have had the biggest wardrobe….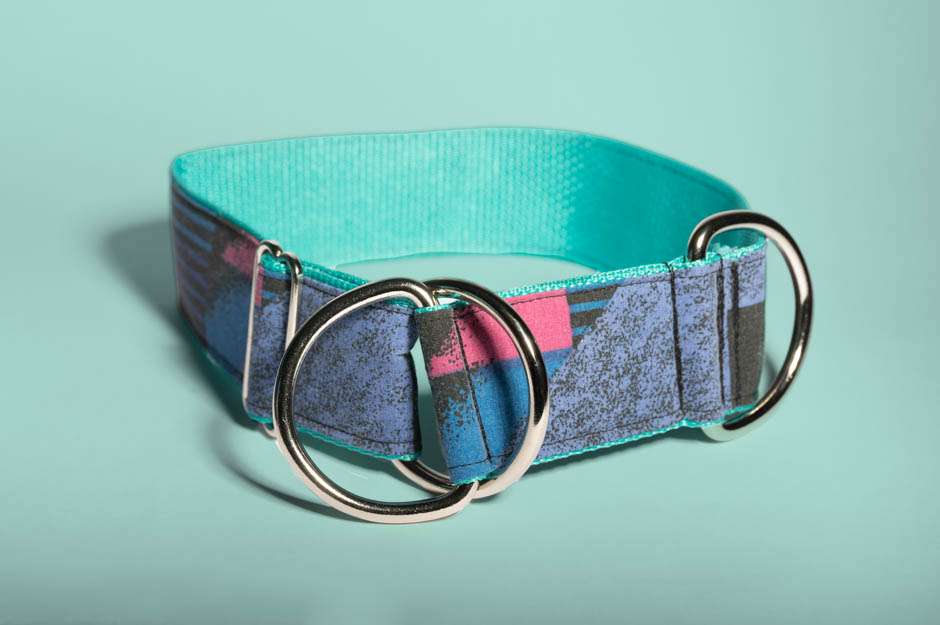 Started in the cold months of February in 2015 when my foster pittie (Bender!) needed a martingale collar that was cooler then the plain red, blue and black nylon that was found at the big box pet supply places. Headed to the thrift store, snagged a necktie & men's belt, dropped in red thread and the Atom was born.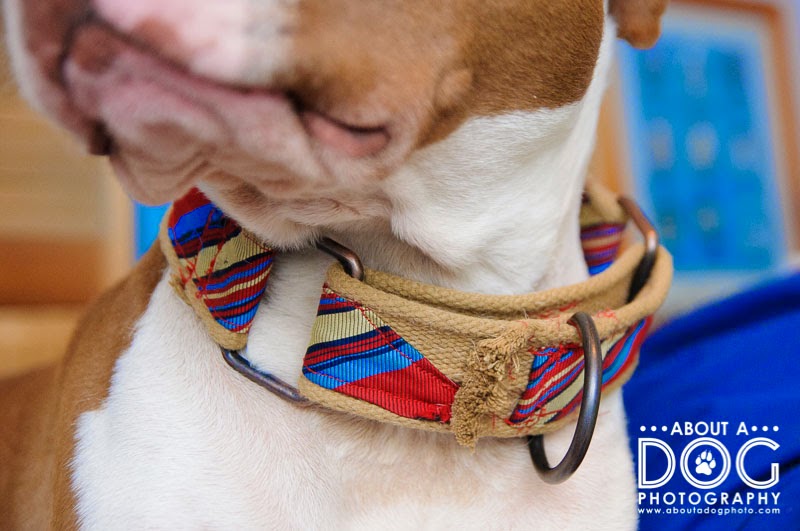 [ Here's an old blog post that I wrote about Atomic Collars in 2015 (as part of the blog ring!): Something New! (The wacky tie still needs a home!) ]
6 years of time have evolved collars out of men's belts as webbing (now it's polypro), graduated away from the belt hardware (now welded D rings) but has retained the upcycled sourcing of all the materials.
Materials come in a plethora of patterns as varied as their source – from plaids & houndstooth, to stripes and florals to bleached & tie dyed.
2 inch and 1.5 inch wide were the standards, with 1 inch and 3/4 inch widths added in later years. Martingale and flat buckle were the first two styles, with limited slip added later. Newly added styles include breakaway buckles, house collars and double D rings. Cat collars also joined the family, bringing with them teenie 1/2 inch webbing. Leashes and harness have joined the family as of a few months ago!
As for other accessories: Bowties were a fleeting thought (hard to attach to martingales), scarves were inspired but transitioned out as my indifference to KAM snaps grew. In similar styling to scarves (rectangle in shape) neckerchiefs arrived – a tie on and go option, cousin to a bandana.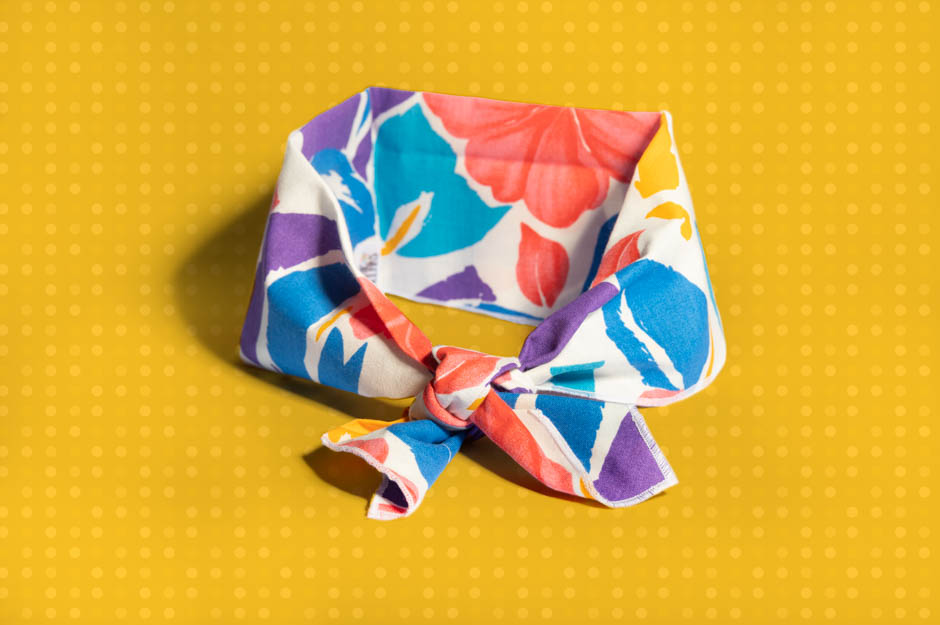 All the options! 4 widths, 6 styles of collars from teenie to moose sized, BAZILLIONS of material options, you're bound to find the perfect fit for your pup! (Or send me your material and I'll make a super one of a kind collar just for you!). Bonus: these look EPIC in a photography session!
Head over to Atomic Collars and snag yourself a made by me collar! (If you use this code: AAD2022BLOG you'll get 50% off everything!)
---
Look through the blog ring to see what the other photographers make for their dogs! Next in the circle: Angela Schneider of Big White Dog Photography in Spokane, WA, making homemade dog treats with zucchini!