Start with the very first step. Choose your session!
Will it be an all inclusive Digital Dog Session (available in 3 sizes: Standard, Big & Biggest)? 
Or a limited edition Short & Sweet or Tweenie Weenie Session? 
Or a series of sessions to capture the growth of your newly home puppy?
Once you've decided on the perfect session head to the next choose your adventure choice!
Learn more about each session:
• Digital Dog Session
• Short & Sweet Session
• Teenie Weenie Session
You can get to know me too while you look into sessions! 
Head over to the ABOUT page for all the good bits!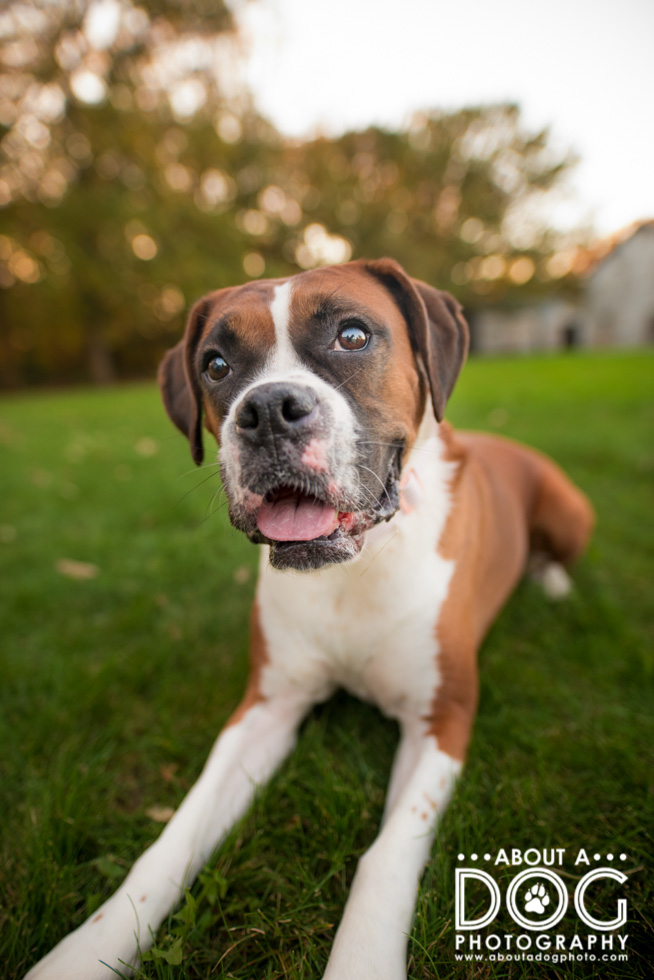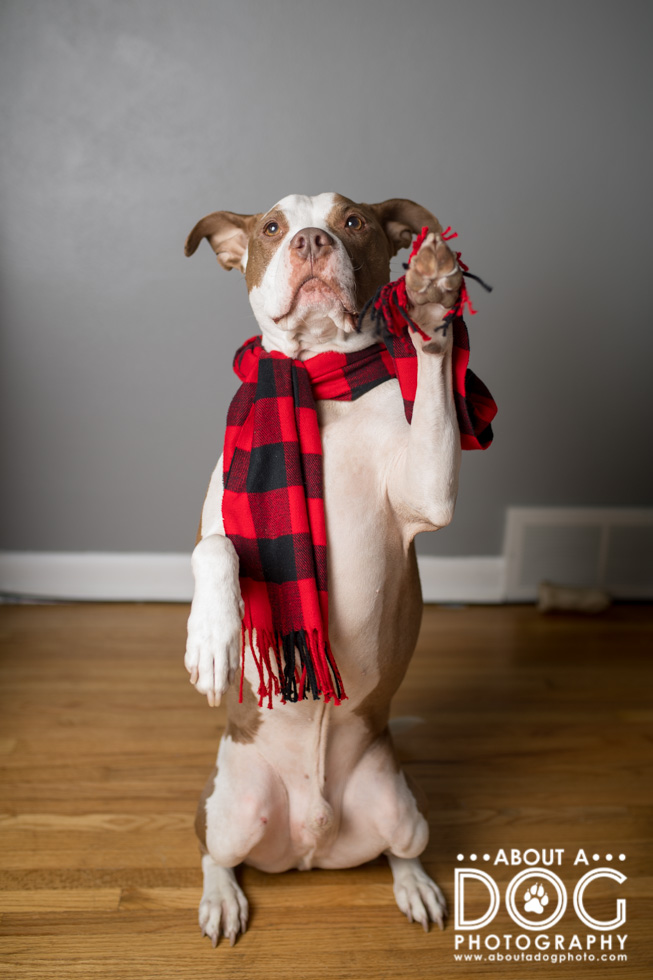 Next Choice:
Book Your Session!
EEEEEEEEEK! You've picked the session that will be perfect for capturing your dog's personality & the bond you share! Now.. let's get your session booked!
Choose: OLD SCHOOL CONTACT
EMAIL!
Drop me a hello, a HECK YES I NEED A SESSION TO IMMORTALIZE MY DOG and we'll get the process started!
– Email:
Choose: MODERN CONTACT
Head over to our online schedule & booking site and pick the perfect date for your dog's session. We'll be in touch afterwards!
Tips for picking the most EPIC location for your dog's session!
The location of your session is a MEGA important detail we will set after your session is on the schedule.
We aren't limited by anything more than our ability to navigate sheer rock walls and coarsely pebbled trails at a near 90 degree slant. Which means we can go pretty much anywhere you want to go!
First start with season. 
Fall is the fan favorite with the colors arriving in October. There are also less bugs and milder temps without being too hot or too cold. 
Spring & summer are great because we can be out & about and not lose feeling in our toes & fingers. Spring will carry more mud & flowers with milder temps, while summer carries more bugs, heat and humidity. 
Winter can be rather cold, but man is it pretty! This season is great for those dogs with double coats of fur or those pups with epic snowsuits. These sessions do tend to run a little shorter so we all stay comfortable!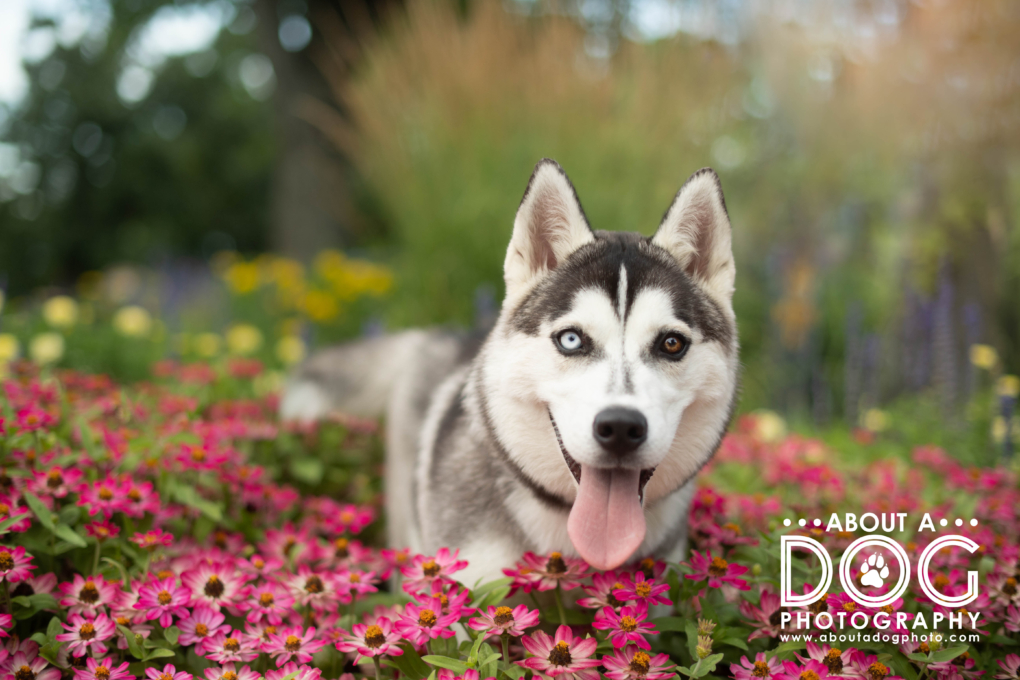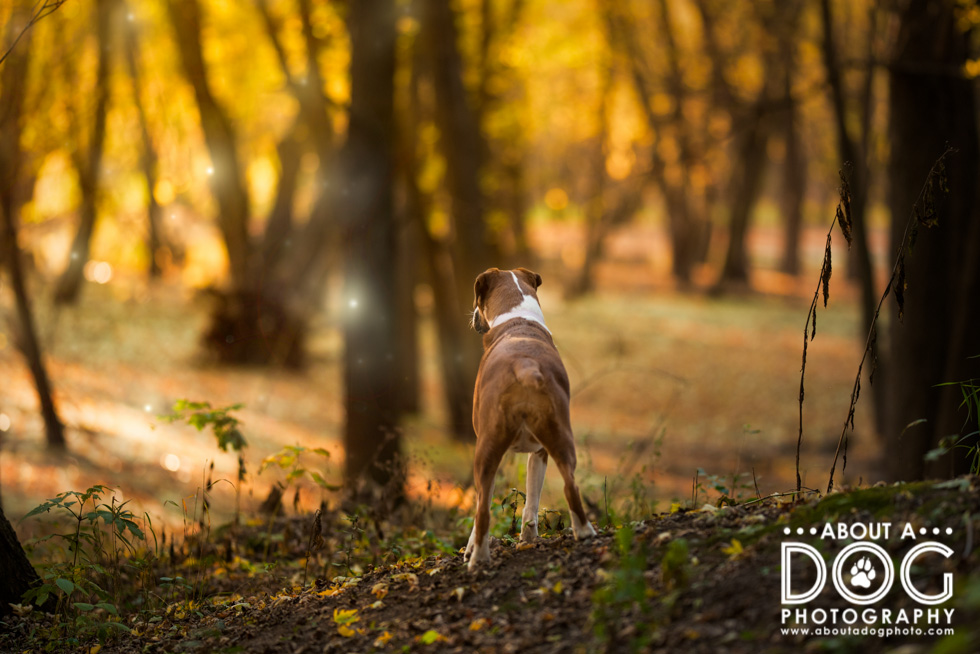 Fall sessions will book quickly! There will be a window of up to 3 weeks when the leaves will be bold & colorful. Start thinking about booking your session in August at the latest!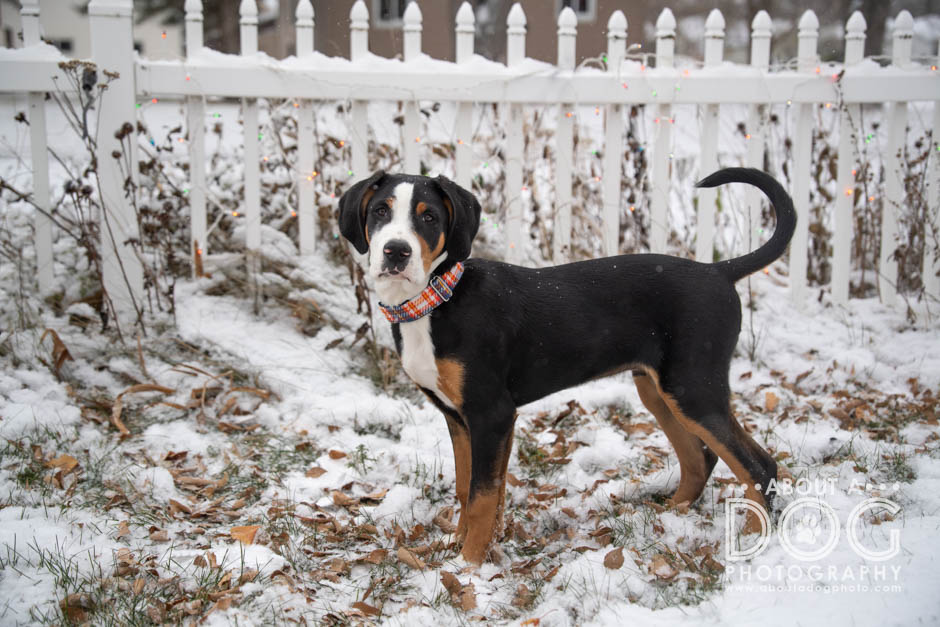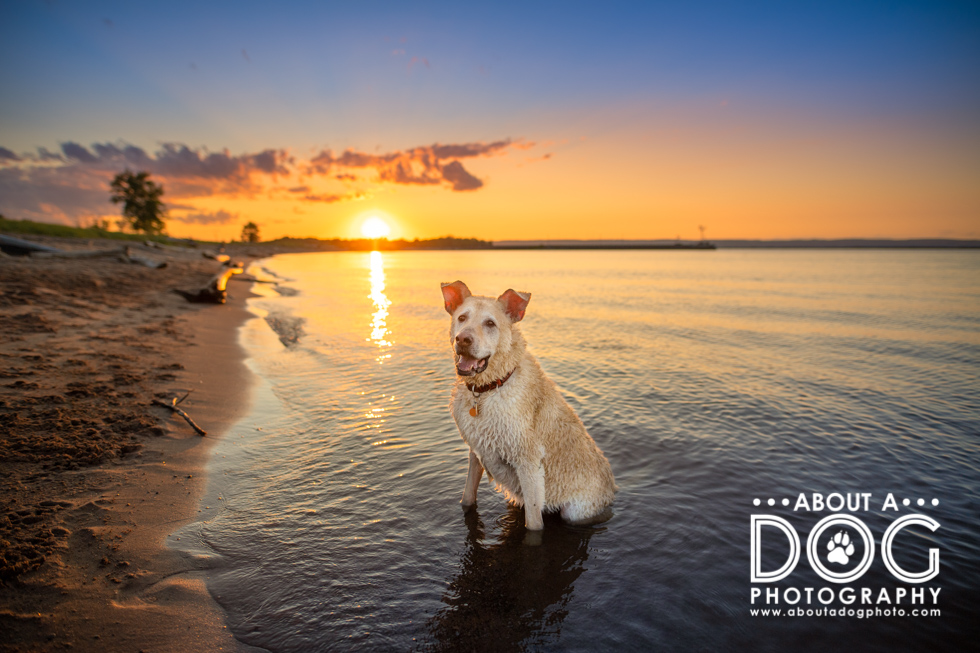 Then pick your location! 
Things to think of when choosing a location:
Urban or park background?

Urban will give you tons of texture from brick to concrete while a park setting is going to give you more organic texture in leaves, grass and trees. If you can't choose, why don't we do two locations during your session?

 

Diversity! Lots of unique backdrops in a shorter walking distance is ideal as it means we won't be spending a ton of time walking from spot to spot. The more diversity the more varied your images will be in the end – perfect for an album!

 

Size! Though a small park is cute, but we may be able to make it from end to end in the span of 30 mins, photography included, especially if there isn't a ton of diversity in backgrounds. Conversely, if we're in a ginormous park that means we'll be walking a ton to get to a few areas. Or we will need to pick only a small area of the park to visit. (Hidden Falls in St. Paul is this way – the beach is a good distance from the falls area. We can do it, but there is lots of walking!)

 

Permits! Minneapolis parks are notorious for needing permits, while other parks may also need day passes or parks passes for entry. We will make sure to have the proper passes in place so our session goes seamlessly!

 

Time of day! Our online calendar & schedule are set up to have sessions 1.5 hours prior to sunset. This ensures we will get the best, prettiest light for your dog's session. Alternately we can tap into the morning golden hour which is within 2 hours after sunrise. (Note: if we're going into the woods for a session, we may want to start a smidge sooner as the woods will grow darker than the prairie as the sun begins to set. )
Need some inspiration?  Check out my favorite places in the St. Cloud area and my favorite places in the Twin Cities area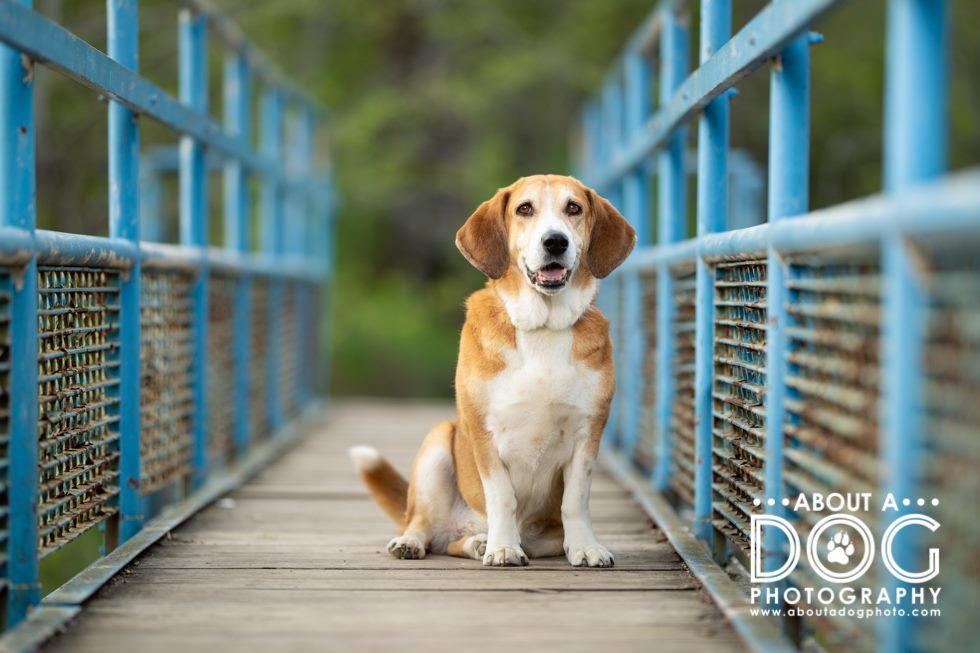 Adding to Your Adventure:
About Your Dog
You've picked the perfect session, made contact to get it booked and now… time to add details to your adventure!
Don't worry if you forget this step as I will be touching base with you to learn what details make your dog amazing & awesome. These will be in the form of questions such as: 
What breeds make up your pup?

If your family has 2 or more dogs, who's who?

How did you find each other?  

Was it love at first sight?

Any food allergies?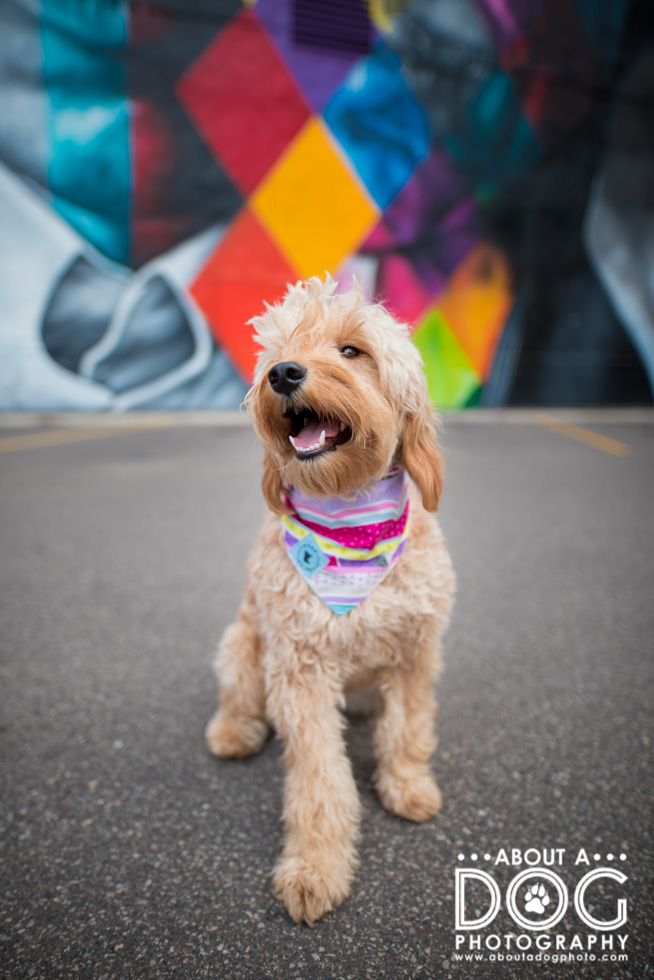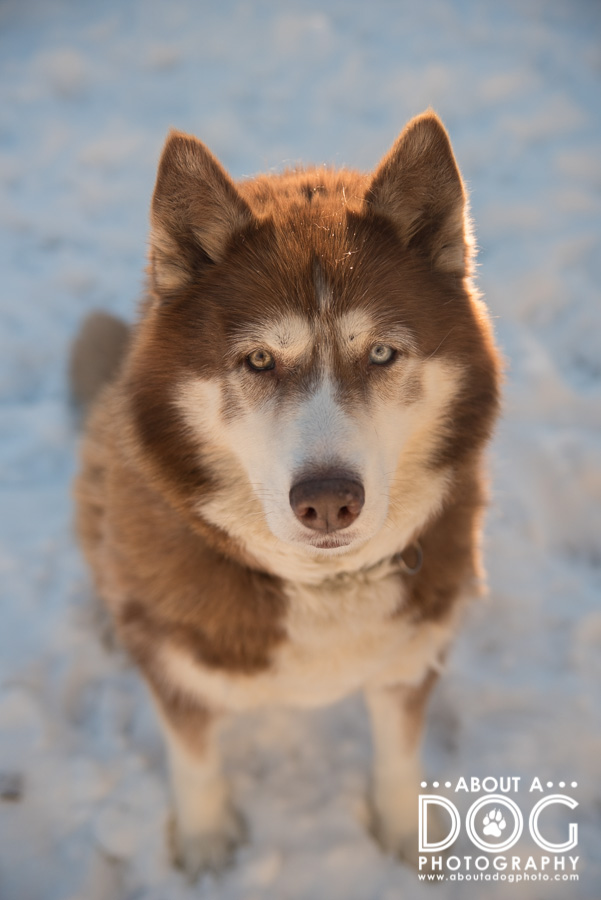 Adding to Your Adventure:
The Bits & Pieces
What parts of your dog do you want immortalized in your dog's images aside from classic sit, lay & stand images?
Details: eyes, ears, butt swirls, tail & paws
Action: your dog as he chases a ball, runs & jumps
Personality: head tilts, snaggle tooth, & goofy tricks
Family: the bond with you & your dog
Anything else you can think of? Let me know and I'll make sure to capture it during your dog's session!
** Yes you get digital images in the Digital Dog Sessions but take a gander at other pieces of artwork you can change your dog's images into: Prints & Products
The Adventure Begins:
Your Session
The date arrives! Eeek! I'm excited to meet you and your dog! 
We'll first exchange smells & hellos, with the pace set by your dog. Acquaintances made, we'll begin the session adventure. 
We'll stroll and chat, with multiple pauses as my eyes catch sight of perfect backgrounds to position your dog in. We'll ask for sits, lays & stands, all while doling out ample treats, silly sounds and praise. 
Remember your session is about FUN! 
We'll let your dog be themselves with gentle direction if needed and you'll end up with EPIC keepsake images of him or her. 
The stroll will continue with us moving into sunset or however long your dog wants to continue the adventure. And when that happens, we'll wrap up, head back our cars & depart.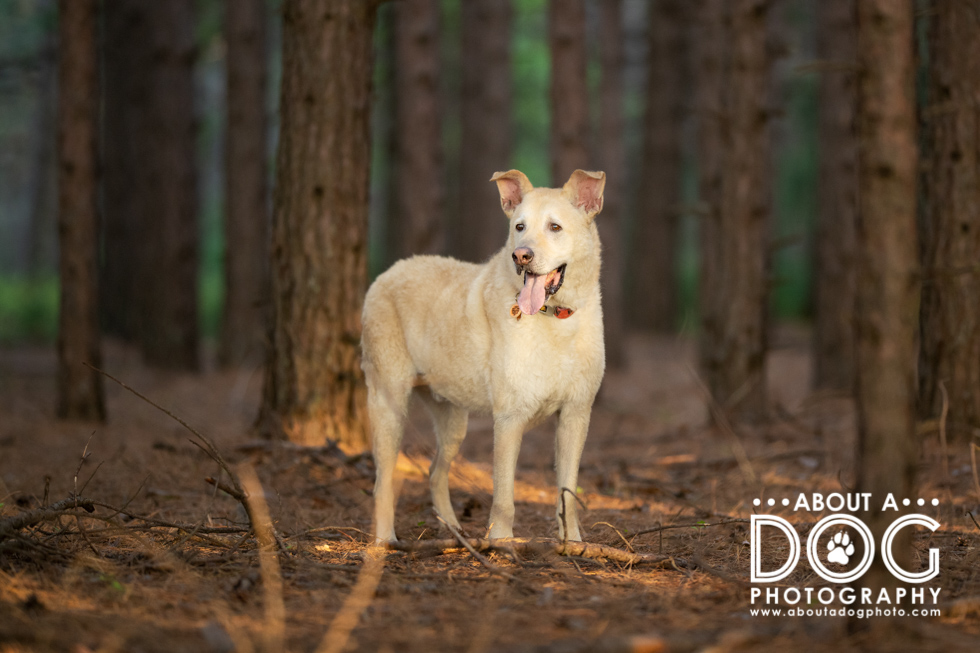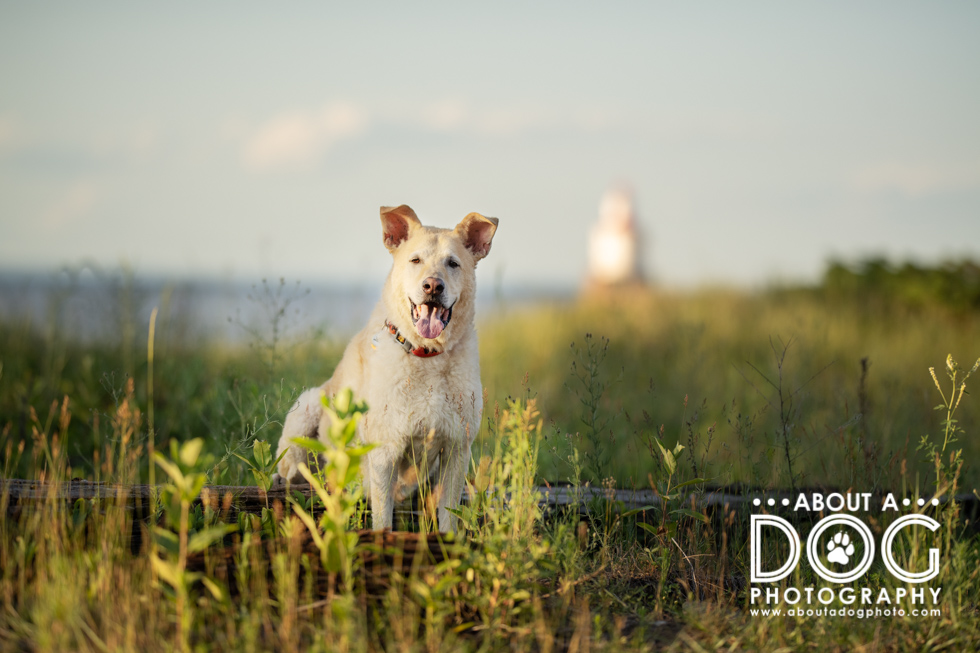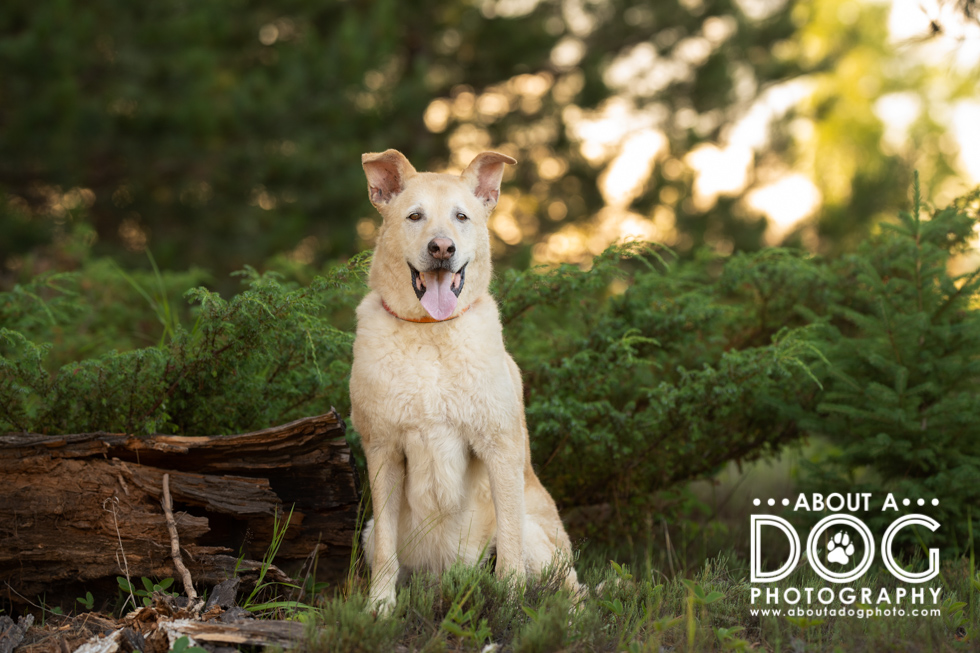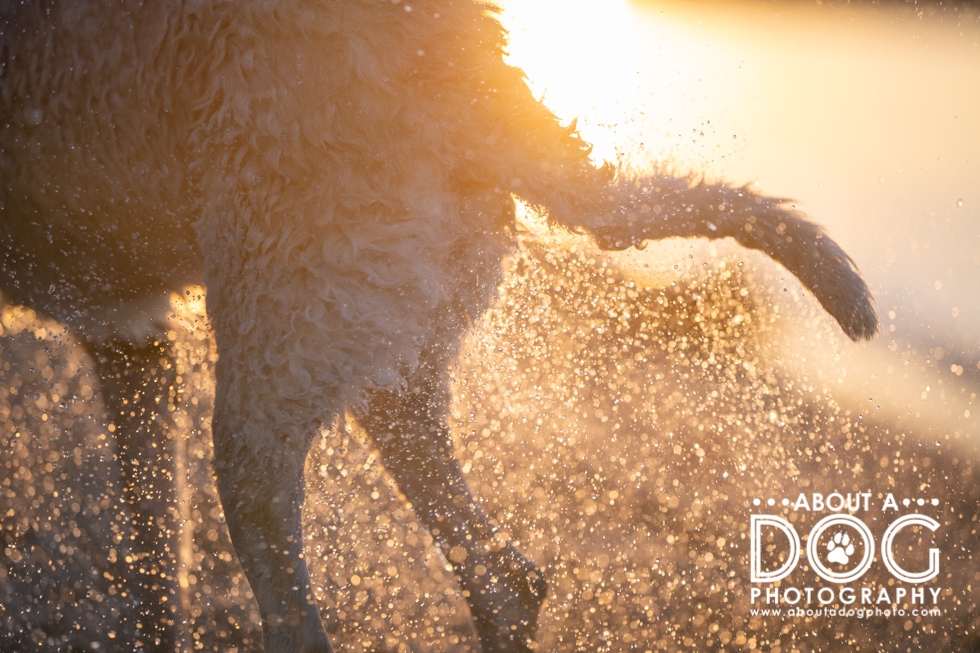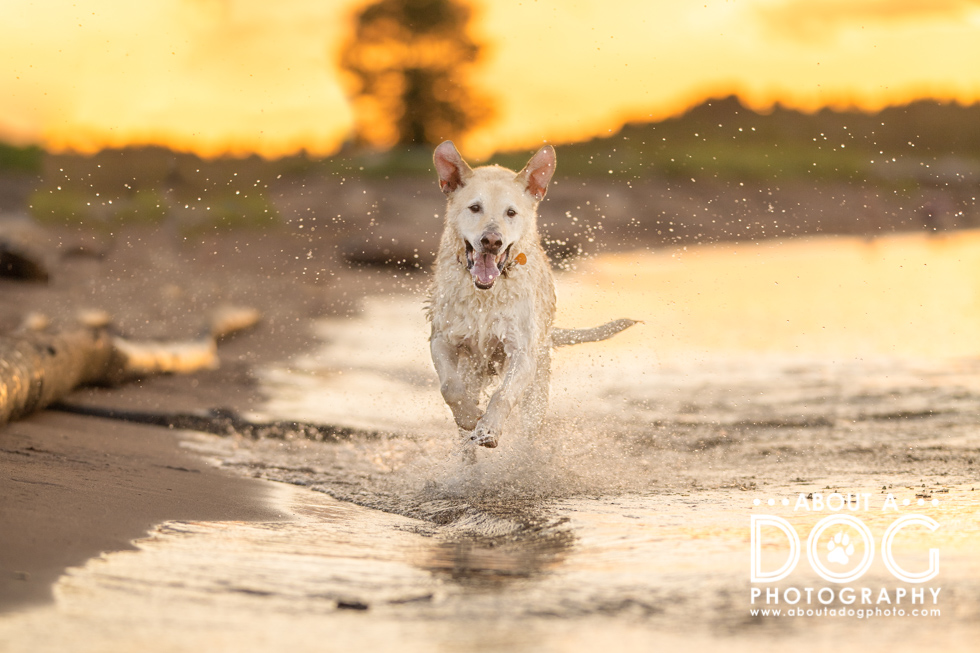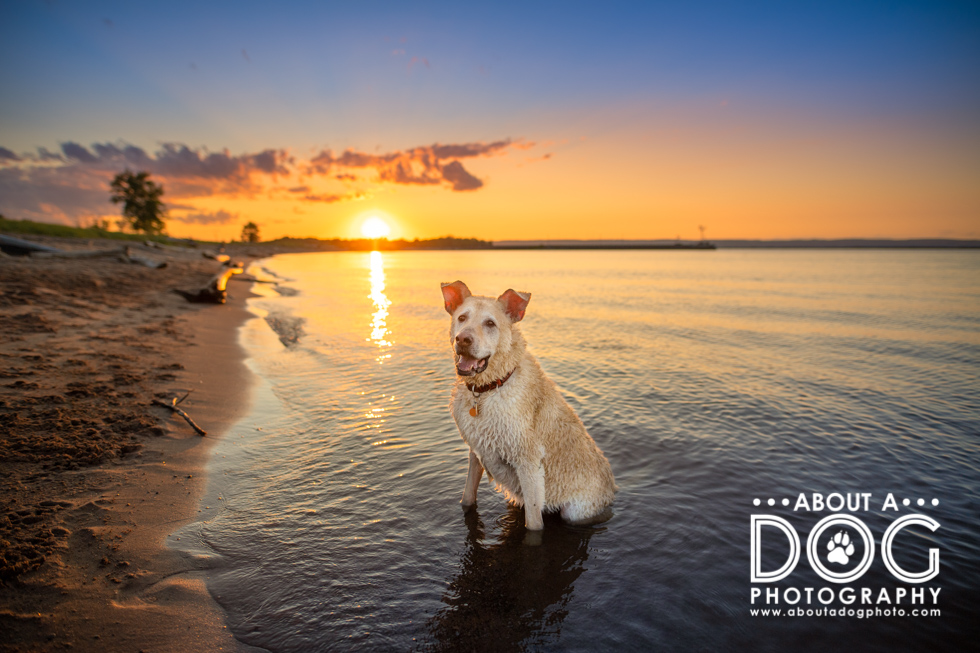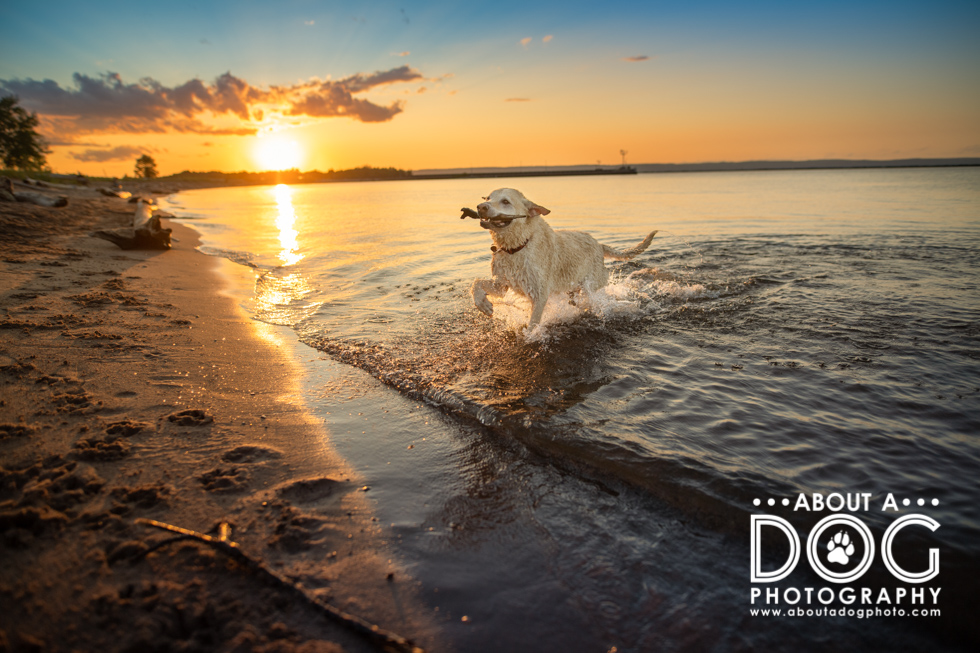 I have quite an arsenal of sounds including I will howls, meows, barks, buzzes, hums, zips, zoots, turkey gobbles, eeks and tons more. Feel free to be impressed or giggle at me haha!
If sounds don't work, or wear off, then we'll turn to catchphrases like ride, car, walk, hungry, grandma, squirrel, treats or any other word your dog knows and responds to with great zest!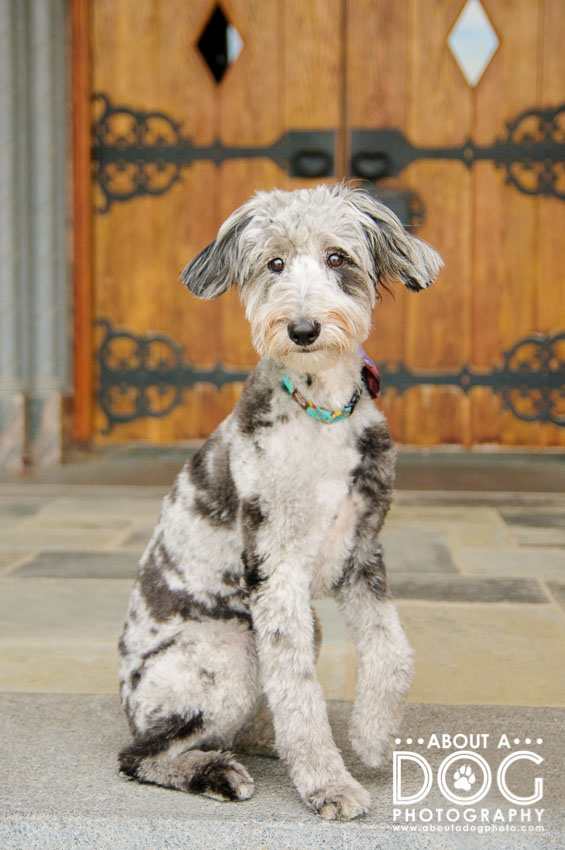 The Adventure Ends:
What Happens Next!
Roughly two weeks after your dog's session you'll get a link to your dog's gallery. EEEEEEEEK! Be prepared to squeal with glee at how much of a superstar your dog was!
Take your time to look through the images. If you want some help picking favorites we can chat via Skype or the phone. Or we can even meet in person!
Once you've narrowed down images, pick the ones you'd like as digital images and which you would like to turn into EPIC pieces of physical art such as prints and wall art.
From there, each image will be fully edited to remove leashes, eye boogers, and distracting elements. If they are digital images they'll land in your email via Dropbox, while physical prints will be sent out to the professional labs we use.
In the span of two weeks after you order your digital images & physical artwork they will be ready to go home to you! EEEEEEEEEEEK! 
I'll shoot you an email with your Dropbox link so you can download your digital images then see how we want to get your prints from me to you. They can be bundled up and sent via the mail (more wait time, the anticipation!) or we can coordinate for an in person hand off. 
From there, share, print, display and enjoy your dog's images! 
(Remember, sessions are now lifetime sessions – you pay the initial Digital Dog or Puppy Series Session amount and all future sessions are complimentary. PLUS you get to keep the a la cart discount for the purchase of future prints, digital images and wall art. No digital images or products are included with future sessions. Short & Sweet and Teenie Weenie Sessions are excluded from being lifetime sessions.)