The season of fall formally arrives on September 22nd (a mere 9 days away!) then carries into the midst of December. Winter formally arrives just before Christmas on December 21st (yeah I think it is odd as well…). Fall is coming!
Though the pumpkin spice push arrived early in August, subtly creeping on the fringes of back to school supplies. Halloween also began to creep in throughout the early part of August, though its arrival was more delightful than overzealous as pumpkin spice can be. 
Halloween Baking Championship is on Food Network, Halloween costumes & treats are at the big box pet supply places, and Dairy Queen has launched their fall treat menu. Who's excited for fall? Or at least Halloween? (It will be Blue's first Halloween!)
And with the arrival of fall, that means fall leaf colors! Minnesota DNR has started the leaf color tracking (oogle it here) for the season and way way way up north is starting to head into the change. Found this cool typical peak date graphic too!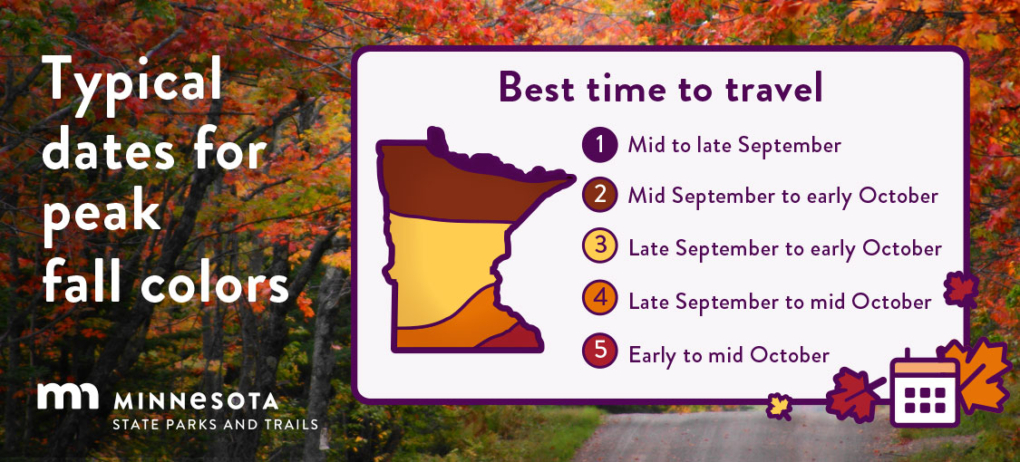 Now there are tons of variables that can affect the fall colors, such as drought & moisture, weather and temperature! Who knew trees changing leaf colors was so in depth!
What's the big deal about knowing when the fall colors are peaking?
For your photography session duh! Fall leaves add a ton of color and pizzazz to your images. Big bold reds, oranges and yellows make for epic and playful images. And if we happen to miss peak, or the trees have decided not to hold their leaves in display, then we'll take advantage of the leaves on the ground!
Plus fall holds temperatures that are pleasant but not too hot or not too cold (though we've been a little closer to summer temps for the start of September…) which means dogs of all types will be comfortable as we adventure during your session!
That being said, when are the sessions that will land within peak leaf color?
The last two fall color sessions:
– Sunday October 2nd
– Sunday October 16th
We can still do a session after the fall colors peak and take advantage of the ground leaves, cool temps and possible dusting of s-n-o-w.  The only sessions available after peak colors are November 12th & 13th. Note, these sessions must take place in the St. Cloud area! This is also is the last time to order prints & product and to be able to get them in time for Christmas!
This fall season there will be weekly posts about the fall colors, fall adventures with Blue and there might even be some tasty recipes thrown in too! Heck I can even talk about tips & tricks if you want to attempt fall pictures yourself. Anything you'd like to learn?