Hot dang, summer is doing its best to hang on knowing that tomorrow is the official start of fall. Pert near 90 yesterday! 
I'm not one to argue with warmer temps, especially since there is a prediction that this coming winter will feature many subzero days and just be a bitter season to live in Minnesota. Sucks for snowboarding, skiing and for Blue's first winter. Though it is merely a prediction (though if you've ever read a Farmer's Almanac there is some crazy voodoo in those predictions…) so the hope is always loads of snow and temps in the 20 to 30 F degrees range. 
Who wants to talk about winter now? Not this girl & her puppy!
Instead, let's talk fall, colorful leaves and Halloween! 
I saw a picture on one of the socials and it looks like the colors are arriving up around the North Shore! Classically peak leaf colors start up north, then trickle down to the southern parts of the state. Minneapolis and St. Paul sit in a neat pocket, with fall colors showing up later in the season (mid October). And of course there's always the eager beaver trees like the one in the park near our house – it is already pushing into its golds & oranges! 
The current map from the DNR: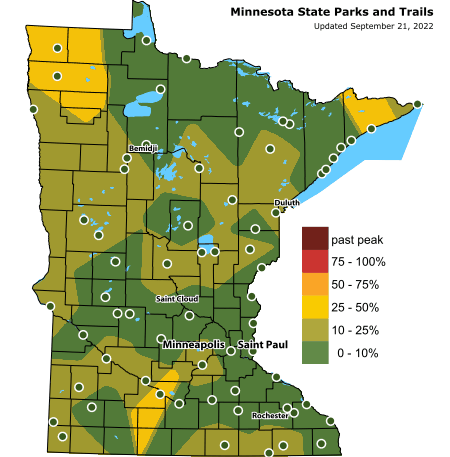 Here comes the color! 
Remember there are only two fall color sessions left:
– Sunday October 2nd
– Sunday October 16th
If you'd like to snag either of these sessions, email, call or text!
What to do until the spooktacular arrival of Halloween?
September 21st celebrate:
National Chai Day
National New York Day
National Pecan Cookie Day (NO your dog can't eat pecans, walnuts or macadamia nuts!)
September 22nd celebrate:
National States & Capitals Day
American Business Women's Day
Car Free Day
Diary Day
Elephant Appreciation Day
Hobbit Day (The Hobbit was published September 21st, 1937)
National Centenarian's Day
National Girl's Night
National Ice Cream Cone Day
National Legwear Day
National Online Recovery Day
National White Chocolate Day
Autumnal Equinox
September 23rd celebrate: 
Bisexuality Day
National Dogs in Politics Day
National Great American Pot Pie Day
National Snack Stick Day
Innergize Day – Day after the Autumn Equinox
National BRAVE Day
National Gay Men's HIV/AIDS Awareness Day
September 24th celebrate:
My sister's 35th birthday! Happy birthday sister!
Want to celebrate more known & obscure national days? Pop over to National Day Calendar!
(BTW Halloween arrives in 40 days…EEEEEK!) 
Blue is getting bigger! 12 weeks! His legs are longer and his body is getting longer, making him a bit awkward to hold as we navigate Petsmart & Petco (no feet on the floor until after the last round of shots in October). Potty training has been going well with very few accidents. He crates easily, loves food, enjoys training and learns new things quickly, though keeping him from being so bitey has been taking a bit more work. We are working on bite inhibition & mouth manners as well as teaching him to be a cool cucumber and not a crazy ape (a good portion of the biting is arousal biting for over stimulation during play or from motion). 
Last time we did a weight he was 21 lbs!
The most common breed he gets confused for is a beagle or beagle mix… I guess I could see it in his ears? Perhaps in the his blaze too… but classically there is more brown/tan/red on the face on a beagle especially adult beagles (he's the size of an adult beagle lol!)
Blue has also gotten Bernese Mountain dog (they are related – but Blue isn't fuzzy!) and he's even been asked if he's a basset hound… his ears aren't that big!!!
Do you think Blue looks like a beagle?
Puppy Kindergarten started last week on Wednesday and it was a good learning experience.  Blue was scared/shy of the new people (something I knew would happen). He was very shy & scared of the other puppies – hackles up, tail tucked, ears back and he'd sit when they approached so they couldn't sniff him. All of the other puppies respected his shyness and by the end of the group play Blue was starting to join in. 
After play, we did training things. I feel like we're rather ahead of the others in the class as we've been working on sit, lay, touch, leave it and other skills since he's been home. Blue was only a little distracted and once I had his attention he did his touch & lay exercises easily. 
We needed a little work on touch as the only time we had practiced it was from a sit or laying position and Julie our teacher/trainer wanted him to move his booty in a bigger motion. Easy peasy and we've got it down solid, though sometimes I have to wiggle my fingers to entice Blue into the first touch if he's sitting haha!
The fall series of blog posts are going to continue weekly as the fall colors transition into their peak colors. There will be updates about Blue, possibly recipes, national days to celebrate and tips & tricks for photographing your pup with fall leaves. 
Once the leaves drop, we'll continue weekly with recipes, Halloween fun, Thanksgiving ideas as well as holiday ideas for gifts or photographing your pup with holiday lights. And anything else that comes to mind as the seasons transition from fall into holiday & winter season. 
Let me know if there's anything you want to learn!