Hello dogs! Are you excited for your session? EEEEEEEEK! Me as well!
Let's talk about what to wear for your session! (We'll give you some recommendations to tell your hoomans too!)
Collars

– Wear a flat collar that is clean and not ratty or worn out
– Solid collars or patterns are totally OK! Match to your parents or be bold & stand out!
– No prong collars or E collars – if you do wear them they WON'T be edited out of your images
– Need a new collar? Check out: Atomic Collars, Penny's Collars, Wolfgang, Wild Moon Dog Co, The Foggy Dog Co, Ninja Bling, Squeaky Egg Collars, Fuzzy Logic Collar Company, Cloud Nine Collars, Sidekick Collars, Lonesome Ranch Leather, Adam's Leather Collars, Hypnotic Dog, CuddleMutt or head over to Etsy to find the perfect fabric.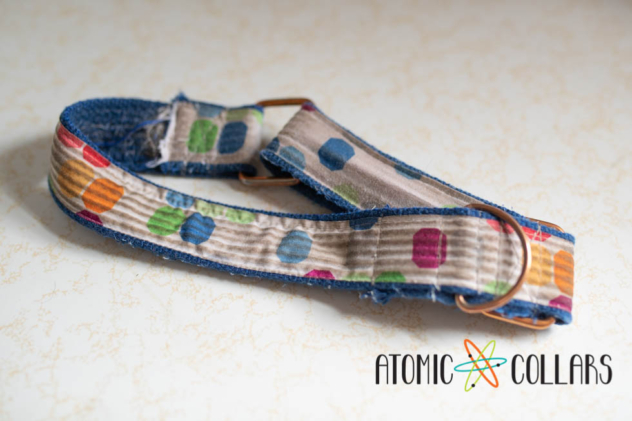 Old beat up collar – great for daily walks & jaunts through the mud & woods. Not great for your session!


Harnesses

– Make sure it is clean, not ratty and well fitting
– Harnesses WILL NOT be edited out of your images
– Solid colors or patterns are ok! (If you opt for a pattern, make sure it works with your parents' outfits!)
– Need a new harness? Check out: Lupine Pet, Wolfgang, Sniff & Bark, Leeds Dog Supply, Wagwear, Bentley and Bowie, 2 Hounds Design, Bonefly, The French Dog (the waffle collar & harness!!!), or scour Etsy for the perfect print or color!



Leash


– leashes will be removed in ALL of your final images!
– neutral colors are best, avoid patterns
– no retractable leashes



Bandana / Neckerchief

– make sure it is clean and not ratty
– great to add pizzazz and personality to your images!
– bold colors are great, neutrals are pretty, opt for colors that don't blend in with your fur (black on black, tan on tan etc)
– yes you can wear patterns!
– if you're including your human parents in your pictures, this is a great way to coordinate with them!
– Who doesn't need more bandanas or neckerchiefs in their collection?
For neckerchiefs check out: Atomic Collars, Olive & Tate, Tailored Tails & Co, An Olive Branch Grove, Boe & Ruth, E&V Collective, Helen Penny Shop, Paw Paw Design UK, Barkable Boutique (house collars), Oakroo, Koo Koo Pooch, Doxie Threads, Bark and Bow Shop, Hey Roux (neckties), My Woof Wears, Hound and Tailor, Mama's Love Design, The Original Potato, Pumpkin Corner, Vinnie & Paws or do some searching (neckerchiefs aren't as easily found as bandanas)
For bandanas check out: The Foggy Dog, Lucy & Co, Crew Lala, Ripley & Rue, Three Spoiled Dogs, Kirk & Willie, The Rover Boutique, Val & Co, Northstar Hounds, Nomadic Tails, Clive & Bacon, Happy Breath, Life for Paws, Fox Named Todd (they have cute t-shirts for dogs too!), Dogdana Co., ZoZo & Co or head to Etsy for a BAZILLION more options!
What's the difference between a neckerchief and a bandana?
Bandanas are a TRIANGLE shape. They can be tie on or have a snap closure system. Classically the knot will rotate as its being worn so the design will end up on your shoulders. (Don't worry, we'll tweak it into place for your pictures!). Neckerchiefs are a RECTANGLE shape, no point! They tie on and the knot becomes an adorable bow under your chin.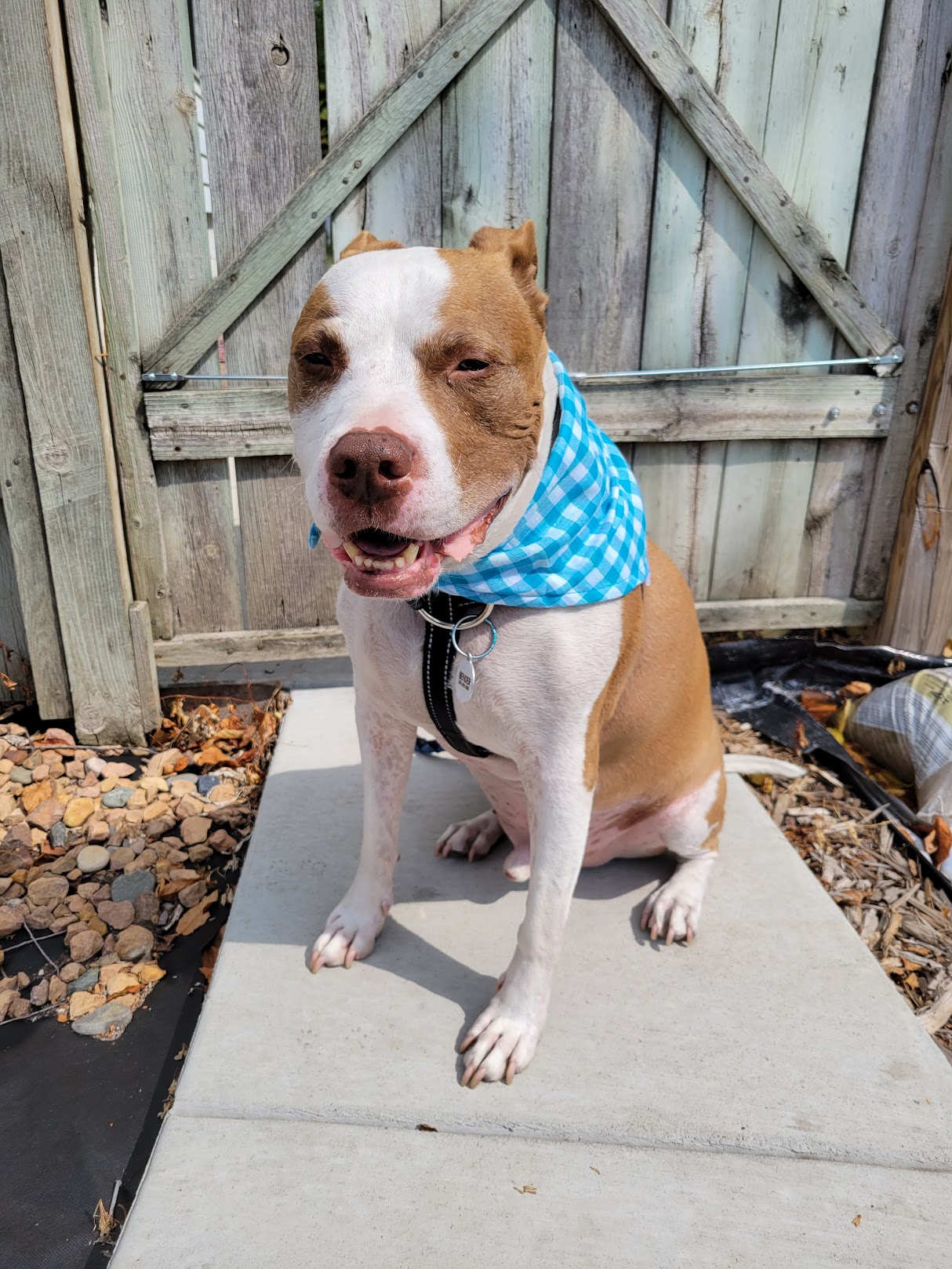 You can also opt for a bow tie, flower, or scarf (if you're doing a winter session these are TOTALLY adorable!) to show off your personality!
What should my hooman parents wear if they are in pictures with me?
First and foremost, make sure your hoomans wear clean, non beatup shoes. They WILL end up in pictures with you no matter what size you are. Also make sure they wear (or at least bring) comfortable shoes for when we walk from point to point during your session. It's no fun for your mum or dad to be sore halfway through a trek in the woods.
There's two ways you can coordinate their outfits – you pick your collar & accessories & they find matching items or they pick their outfits and find matching items for you. So if you fall in love with a shark bandana then your hooman parents would pick blues and greys to compliment. Say your hoomans love mustard & navy like below: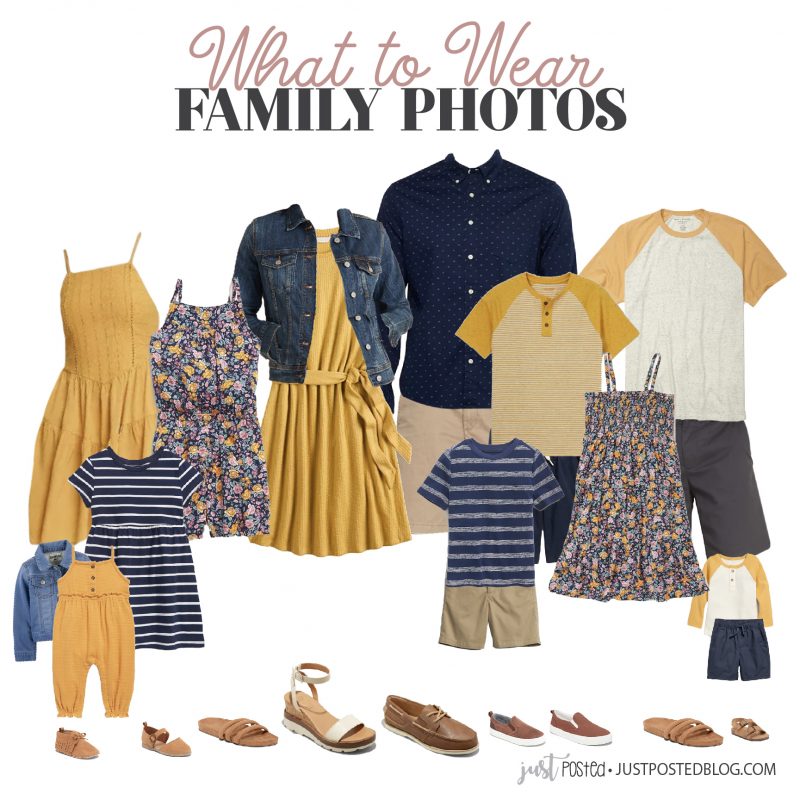 Then you would match to their choice in colors with navy or mustard (or mustard & navy) bandana or neckerchiefs – see below for ideas! Heck you could even match your collar or harness to their outfits!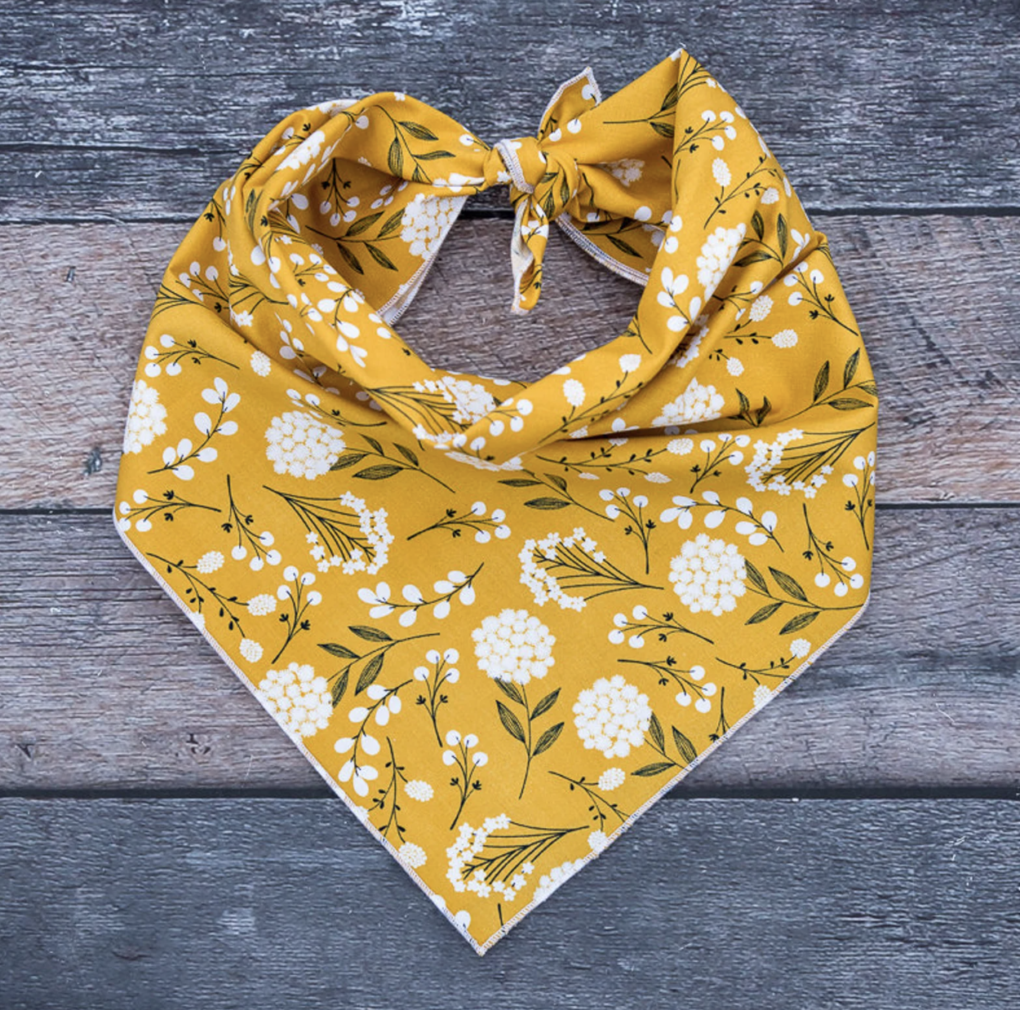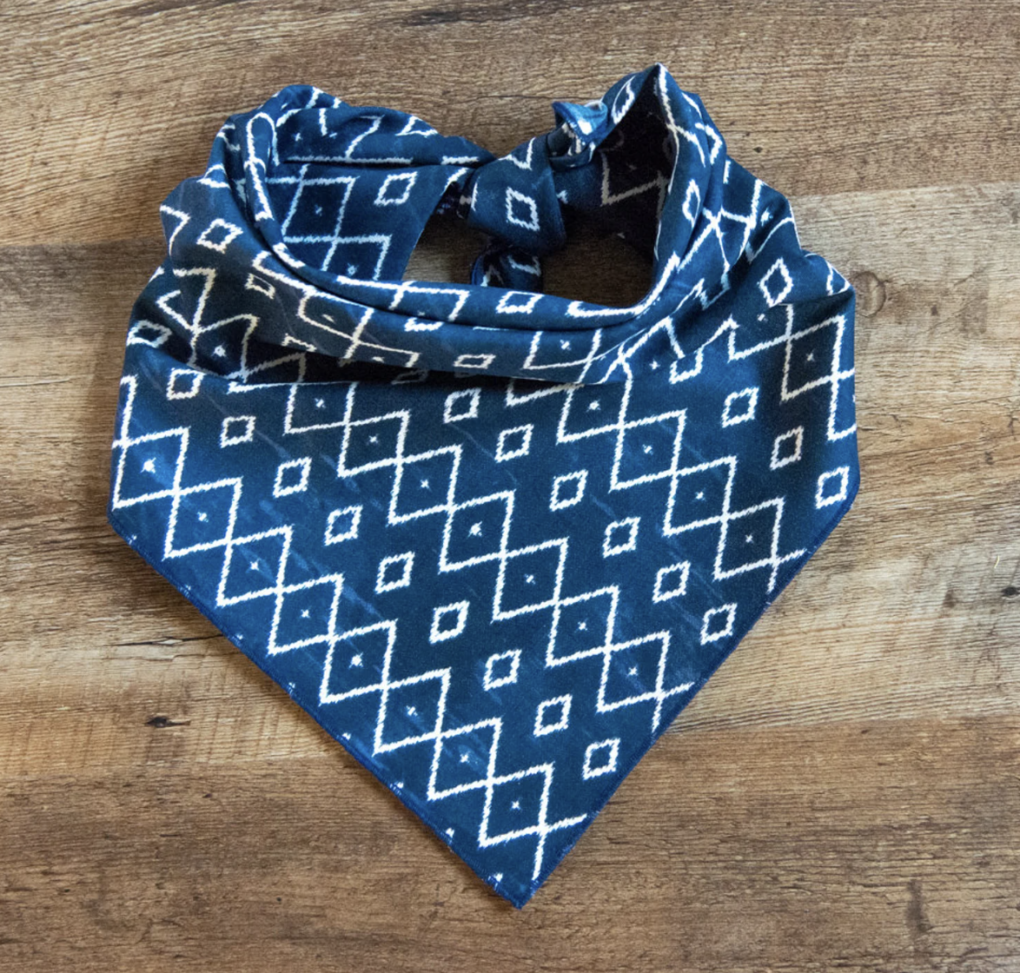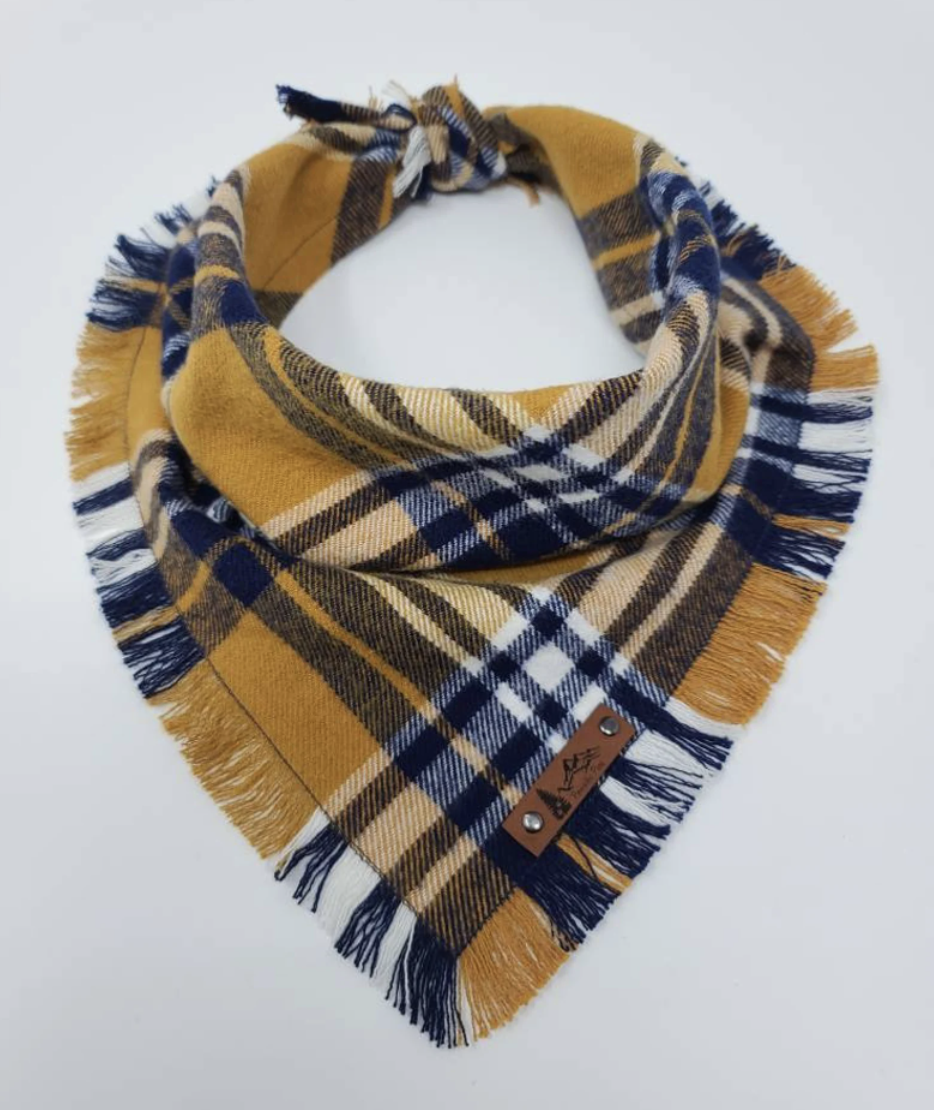 If your parents aren't sure about mixing patterns, tell them it's totally ok! Best bet is a pattern & solid together, or a floral pattern with a plaid. The ideal is to have their outfits in similar tones (all blues, greys, mustards etc) or in tones that compliment each other – navy goes well with coral, mustard, rust and turquoise. Pair soft pinks with sand, mint, lavender and pale blues. Blues and greens work wonderfully together, mustard pairs with cranberry, turquoise and purple work well together. If they stay in a tonality range (rich colors, pale colors, bright colors) the colors they pick ought to coordinate quite well. T-shirts are dandy too but make sure they don't wear any t-shirts with graphics on them!
Tell your parents to anticipate the season we're going to have your session in. Spring & fall can be warm, can be chilly, layering is going to be their friends. Summer speaks to lighter weight materials. If your mum or dad tends to sweat, tell them to avoid greys & lighter colors (minus white) if the humidity and temperature are on the upward trend. Darker colors (navy & black are best) will help hide any sweaty regions. In the winter the temp can be cold to really cold (we won't do a session if the temp is under 20 degrees) and layering is a MUST! If they don't have any classic coats that look sharp, then they will discard them for any images they are part of. Additionally tell them that proper footwear is a MUST! 
What if my sister or brother (who are also dogs like me) want to be in the pictures? 
Make sure they have a clean, non ratty collars or harnesses. If one of you wears a harness and the other doesn't, it would be best that you BOTH wear a harness or BOTH wear a collar for images when you're together. With bandanas & neckerchiefs, use the same rules as above – pull from your hoomans' outfits, or inspire theirs. If you want to wear the same bandana or neckerchief for total matchy matchy, go for it! Otherwise pick a pair that coordinates – perhaps the same color but a different tone for each of you (it's called monochrome!). A light blue & dark blue, hunter green & kelly green, etc. The same advice from above – pair a floral with a solid, a plaid & floral, different patterns but the same tone and so on. Consult Pinterest for ideas (don't worry that most are people themed, you can follow the same coordination inspiration!). Avoid contrasting patterns or colors, we want to show a unity to your sibling, not a contest!
Oh you're not really the matchy matchy type? Tell your hoomans to head to Pinterest for ideas for their outfits and save the bandanas & neckerchiefs for pictures featuring only you! Feel free to bring a couple of options if you like and we can mix and match in according to backdrop. 
When should I go to the groomer? 
If you're a dog who regularly goes to the groomer, we should coordinate your session a few days after your groom so you look sharp & clean. If you're a pup with longer eyebrows but aren't due for a full groom, pop into the groomer for a trim. If you happen to need a full shave due to matting (it happens, we understand) we should opt for a session a few weeks afterwards so your coat can build up a bit. 
If you're a dog that's a wash & wear type, opt for a bath the day before your session. Skipping the bath? A good brushing the day of your session before we meet up will be perfect. 
Make sure your hoomans are groomed too! Have your dads trim their beards, goatees and mustaches. Both mom & dad should have their hair trimmed the week before we meet up if needed. 
What should I make sure my mum or dad packs for the day? 
POO BAGS!!! Make sure to have a roll ready and in available because sh*t happens.
Aside from poo bags, you will want to bring:
a bottle of water & bowl – especially if your session is during the late spring, summer and early fall seasons
your favorite HIGH value treats (make sure to let me know if you have any dietary restrictions!)
your favorite toy – we can include it in your images as a memento or just use it to get your attention
a change of bandanas / neckerchiefs or collars – we can do outfit swaps throughout your session 
Perfect! You're perfectly prepped on what to wear for your session!