The food comas have waned, the thanks for the food and families celebrated amidst football, naps and pre Black Friday shopping. May the deals be in your favor!
This puts us solidly into December, a mere 21 days out from the major gifting holiday (for the Christmas celebrators). What better way to celebrate then with another one of our favorite things? (Also another awesome company found in THE Holiday Guide)
Today's feature is Dog Love Repeat, offering upscale boutique items for stylish pups and their people. Kristin is amazing, sweet, with a stylish eye and a soft spot for pups (we all may have that soft spot!). 
---
Hello Kristin!
How did you get started?

I've always dreamed of owning my own shop – especially a brick & mortar – which appealed because I love interior design.  Over the past many years I had mulled ideas over, especially when I was a young mother. I thought how cool to have a mom & baby store where moms could by for themselves and their kiddos in a comfortable, loungy space.  That never happened, but the dream was always simmering in the back of my brain.
Where did you get the idea for Dog Love Repeat?

I was "coerced" into adopting a dog when my kids were young.  I was the hold-out. I had a childhood dog who was less than ideal, I didn't want dog hair in the house, I knew the responsibility would eventually fall to us parents, etc.  When Trixie came into my life, everything changed. I was working from home most of the time so I really got to bond with her. We were inseparable instantly and she converted me to a "dog person!"  Trixie is a chihuahua/min pin mix so she needs clothes in the winter. I was underwhelmed by what was out there in the market. They seemed drab, poorly made, cheesy – no fun. I wanted her clothes to match my aesthetic – the love for fun, colorful and whimsical, but also well made.  I noticed the maker movement was exploding everywhere but in the pet market. I discovered a niche.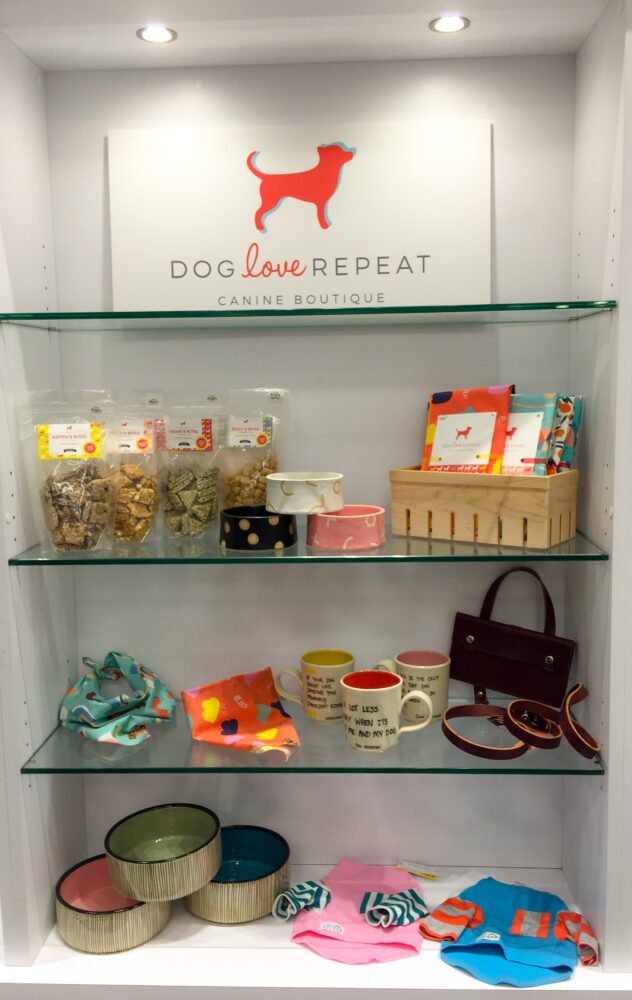 What's unique about Dog Love Repeat? What sets you apart from others in your industry?

Dog Love Repeat is a carefully curated shop featuring over a dozen local, national and international artists who make each item by hand – many exclusively for us. Because of this, we can cross-promote our artists.  We have an artisan section on our website with bios and links to their own websites or Etsy shops. We're proud to say many are women-owned brands. Our goal is to bring a smile with our products. We also give back to causes near and dear to our hearts – dog rescues, shelters and adoption; mental health awareness and the artist community.

Additionally, we have a wonderful, loyal, local following.  For those customers, when orders come in, I credit the shipping charge and hand deliver whenever I can.  Why not? As a consumer, I'm thrilled whenever I can get away with free shipping. It's going above and beyond expectations.  We don't want to just please. We want to delight.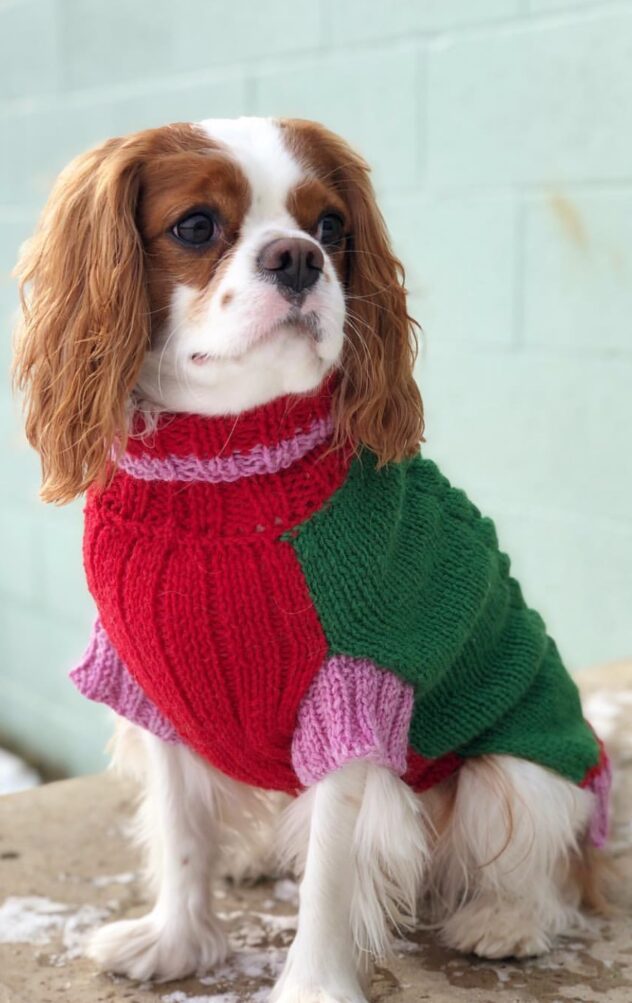 (photo by Leo @leothelionpup)
What is something that surprised you about owning a business? 

There was this notion I had that once we were featured on TV or was in a local magazine or newspaper, that would mean I "made it."  All problems would be solved from there on out. I would have arrived. Not so! It certainly helps and is the cherry on the whipped cream, but they're in the recycling bin after a few weeks.  It's about making sure you're in front of the right people, your target audience, constantly.

Also, being an online only boutique (with the exception of markets and short-term pop-ups) is very isolating and it's difficult to be found.  It feels a little hollow sending product off to customers you never see. Often times you may not get any feedback – you just send your precious cargo off into the world and hope the recipient loves them as much as we do. 
Did you have any early challenges? If so how did you overcome them? If not, what is something you've accomplished with Dog Love Repeat that makes you mega proud?

Ha!  Not just early challenges – they continue every day – after 2 1/2 years from launching.  I have a 4-day-a-week day job aside from Dog Love Repeat. I knew starting up a business would be all-consuming and when you're passionate about something, you just don't care what it takes, you do it.  I didn't start up the business with a nest egg, I didn't crowd source, I just took a loan out against my 401K. It was a pretty measly amount, considering, and I learned the hard way about some aspects of starting up.  Probably spent too much money where I shouldn't have, bit off more than I could chew, etc. But I know this is a common theme you hear from entrepreneurs – we learn so much more from our failures than our successes.

Being completely transparent, cash flow is always an issue.  Some of our product ideas have completely flopped. Some products should have more of a profit margin.  I'm constantly re-evaluating our offerings and trying different directions until it seems we've found the right fit, price point, etc. for our customers.

What I'm proudest of, however, are the relationships I have forged with our customers, our artisan partners and fellow, local makers.  Many have become dear friends. They are the ones rooting for DLR, coming to events just to say 'hi', spreading the word on social media.  These are people in my life I know I wouldn't have if it wasn't for DLR.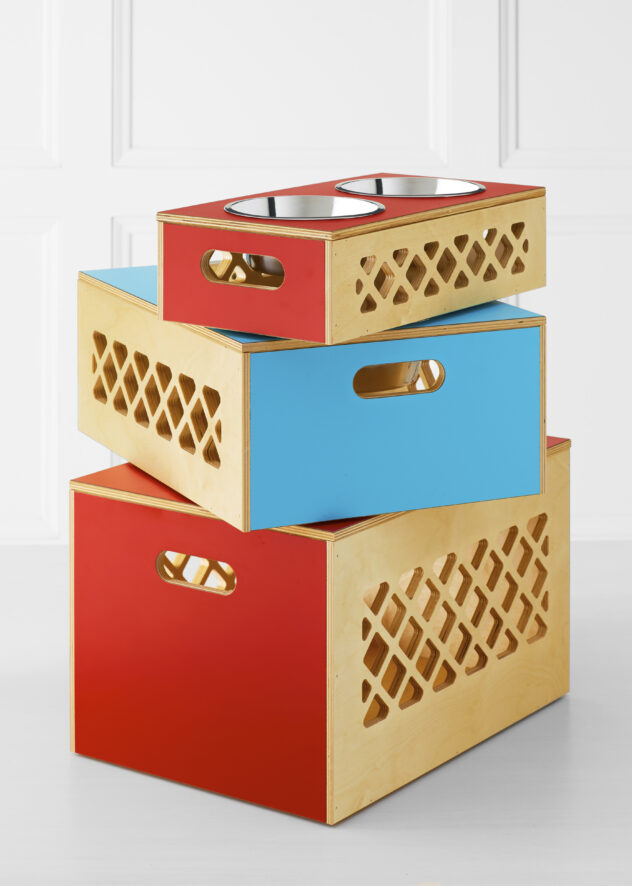 What is some advice you'd give someone just starting out? 

Just know it's going to be super hard.  Like beat you down to your knees hard. Are there instant success stories out there?  Sure. But the majority of start-ups are pouring out their blood, sweat and tears to get by.  You need to focus on YOUR vision and what you want to stand for and stick by it. My day job involves corporate branding and I am fortunate to have that background.  That's where I started – with the identity of DLR. That includes the logo, brand palette, mission and brand pillars – which for DLR are heartfelt, authentic and whimsical. I look through that lens each time I consider adding a product.  It's way too easy to get distracted and scattered if you don't have that lens.

Another bit of advice is to lean on others in your shoes.  Pick the brains of other entrepreneurs. Any chance I get at markets, I'm asking, probing, learning from others.  It's a wonderful, supportive community. Everyone wants to help everyone else. There is enough room for all of us.  With that being said, it's also a small world. Being professional, respectful and gracious will get you far – you never want to burn bridges. 

Finally, listen to your body.  Protecting your physical and mental health, and striking the work-life balance that's best for you is so important.  I learned the hard way and it all came crashing down this past summer. I struggled with depression and anxiety and had to just push the pause button and get myself well.  I was so afraid all of my followers would be gone and everyone would forget about DLR. None of that happened.
What is you most popular product? 

By far it's our bandanas that feature hand illustrated prints by Washington DC artist, Elizabeth Graeber.  Her work is the epitome of whimsical! There are bananas, clementines, sea waves, ice cream cones, strawberries, watermelon, lemons, squirrels and ornaments.  I don't know of any other pet brands who offer a product like this. They're pretty special.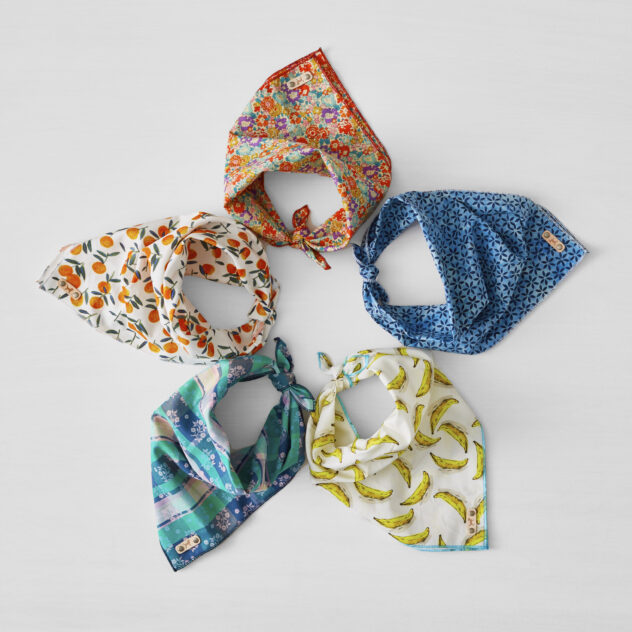 Do you have any pets?

Of course there is the aforementioned Miss Trixie.  We also adopted chihuahua, Ziggy, a year and a half ago.  He's a puppy mill rescue and that was a new challenge for us.  He has adjusted beautifully and we've earned his trust. He used to not look me in the eyes and now he not only does that, but he gives me a kiss on the nose every so often!  I love bringing him to markets and educating young and old about the horrors of puppy mills and why no one should be buying pets at a pet store.
Tell us about the humans behind Dog Love Repeat:

I'm the founder, curator, PR and social media person, accountant – you name it!  I'm the wife of Dan, a realtor, and two kids; Max (20) and Alex (19). I've been at Medtronic (a medical device company) for 18 years as a communications specialist.  I also teach group fitness and yoga classes. In the past year I've started combining my love of dogs and yoga and am teaching doga – yoga with your dog! Right now I'm teaching sporadically at different events in the Twin Cities, but hope to have regular classes in the future.  I just LOVE doing it. Dog parents come to the class very skeptical, apologizing for their dog's behavior in advance. Almost 100% of the time, by the time we get to savasana, everyone is chill and laying down. It's a sight to behold. 

The heart of Dog Love Repeat, though, are the artisans.  They are tremendously talented, hard working, passionate and are dog lovers and dog parents!  Currently they represent the Twin Cities, Florida, Wisconsin, Missouri, Vermont, Washington DC, New York City, and Colombia, South America.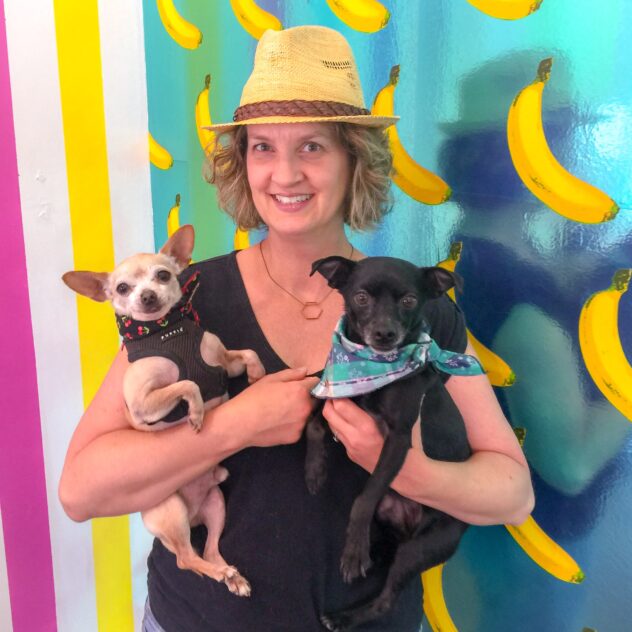 Where can we find Dog Love Repeat?

https://www.instagram.com/dogloverepeat/

https://www.facebook.com/dogloverepeat/

AND Nov. 6 – December 20 – Wed-Fri, 11-3, you can find us at the Chameleon Shoppes IDS Center pop-up.  The Chameleon Consortium is a private-public group dedicated to the experiential and economic vitality of downtown Minneapolis. Their purpose is to create vibrant downtown experiences by transforming empty retail spaces into equity opportunities for minority- and women-owned businesses. We are thrilled to be a part of it!
Thank you a ton Kristin! Head her way, snag some stylish items for your pup and give her love in a like and follow!
---
Did you miss the other favorite things interviews?
Find CuddleMutt here: CuddleMutt
Find Val's Brew Treats here: Val's 
Find Atomic Collars here: Atomic Collars
Find the Dogs of Minneapolis book here: Dogs of Minneapolis