Mid month Friday.  2 weeks prior to the gathering of family and food, 2 weeks prior to the black weekend (which per Target / Walmart / others is the "old" way to do it, so the ENTIRE month of November is Black Friday.) An average Friday, on an average date, back into the winter vibes with the snow and crisp 20s temperatures. The birds are adorable as they fluff into poofs, keeping warm as they squabble over the birdseed bits. 
Ooooooo….
In a curious look up, today is actually an awesome day (no not donuts, cake or coffee). Today is: World Kindness Day.
In all the hoopla of our daily lives, today is a grand encourager to remember kindness. The "new normal" means you can't dole out a plethora of hugs as a kind gesture. Perhaps it could be shoveling your neighbor's sidewalk, paying it forward at the grocery store or coffee shop, or giving the extra care and appreciation to everyone we meet throughout the day. Yes, masks make it a bit more challenging to convey a smile when out with others. Give open gestures, bright eyes and trust me, those smiley crows feet wrinkles still show up around your eyes when you do crack a ginormous smile. 
Be kind. 
Not just today, but as we begin to create our new forward momentum in this "new normal". 
---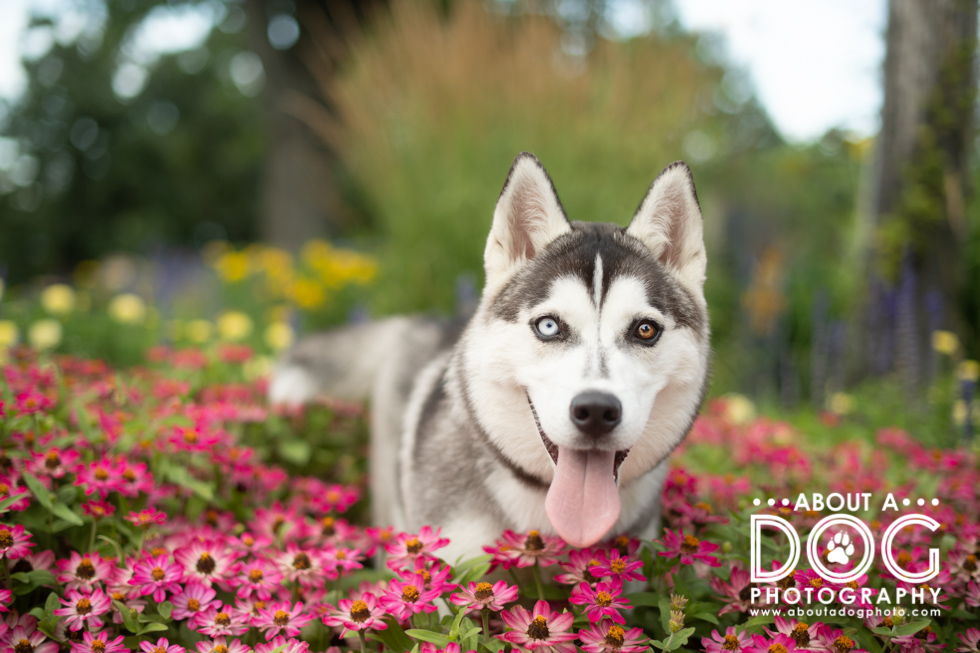 The best way to thwart the early onset winter blues: a sassy husky pup (she was 6 months old during her session). This gorgeous, spunkful gal is Mishka! How freaking cute is she??? She was happy to trample the flowers, sniff and pose for treats during her summer session. She was a total sassafras and an absolute charmer!  Want to follow her sassy antics? Find her on Instagram: meanie_mishka. ( Follow her big brother Shiloh too – shiloh.the.sheltie.)
---
OOOOOOOOOOOOOOOOOOOOOOOOOOO!
There's a new camera who is living with the rest of the Nikon pack – the Nikon Z6 II! 
She arrived this week, sleek, sharp and snappy. She's a mirrorless camera, smaller and lighter, capable of ample pictures per second and a coveted 120p 1080 video (slow motion!). PLUS there's human and animal face tracking which is mega awesome! We haven't had much time to play as the snow came the same day she did. 
Camera #4 of the Nikon pack which includes: Nikon D5, D750, and D300s. (The starter Canon still lives here, plus a little mirrorless Sony NEX).  An exciting new adventure!
---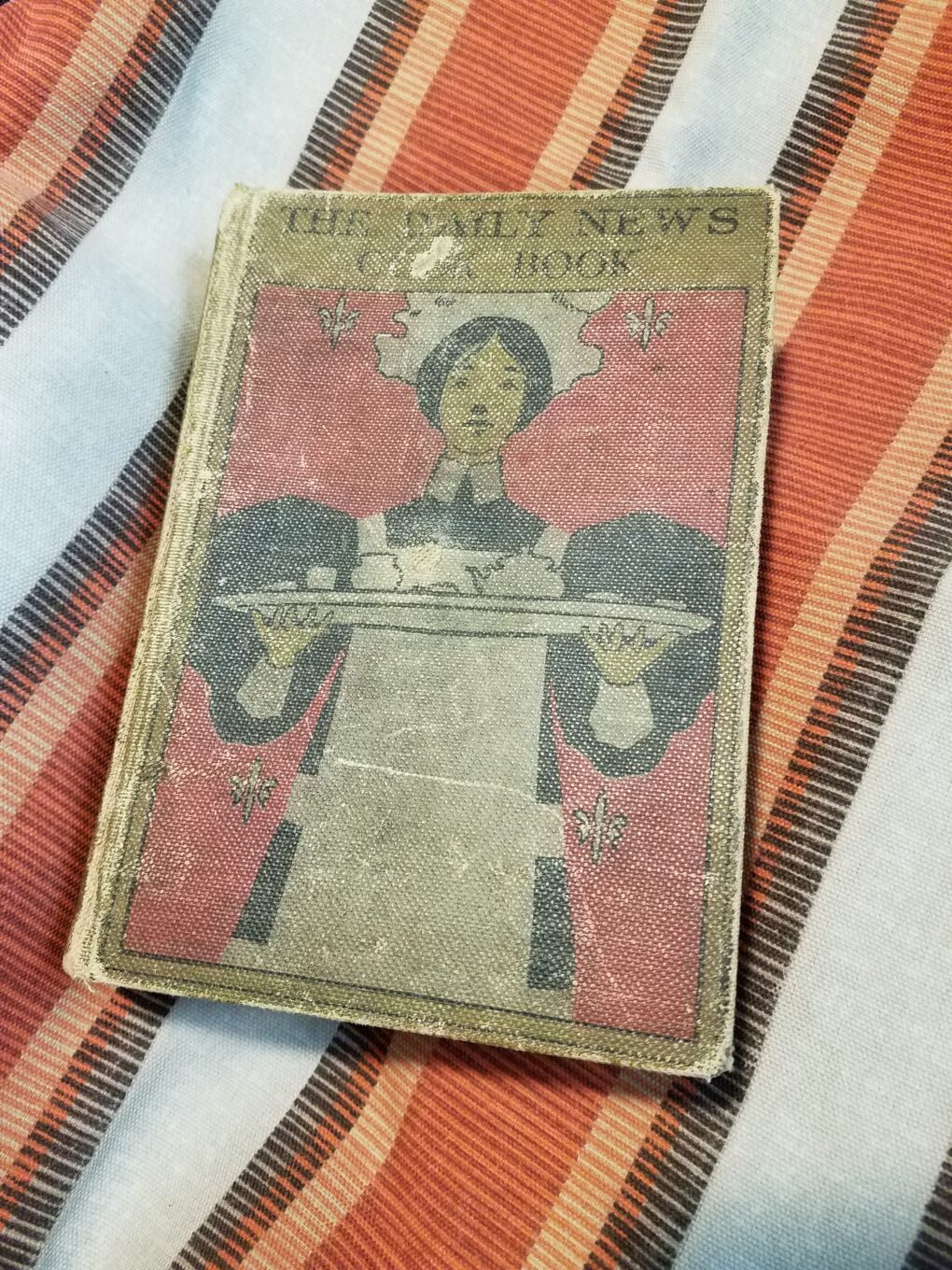 Recipe time: Into 1896. The date, as always, was a Saturday. The menu of recipes submitted by Alice Caskey of Burlington WI (6 hours away from St. Cloud, 5 hours mins away from Minneapolis, just south of Milwaukee). 
BREAKFAST
Fruit
Mushroomed cutlets
Cream toast
Coffee


LUNCHEON
Hot rolls
Mexican stew
Potato puff
Columbia cake
Tea
DINNER
Pumpkin soup
Fried rabbits à la Creole
Mashed potatoes
New England apple pie
Coffee
A hearty menu, mushroomed cutlets is interesting (uses the mushrooms as a coating for frying). No idea what cream toast is (could be simply a cream sauce over toast?) and the recipe for the pumpkin soup starts: "This is a novelty and delicious." The New England apple pie, as most pie recipes in this cookbook has no recipe for the pastry, merely the ingredients to go within the pie. (There's "a wee dash of red pepper" in this apple pie recipe – plus the recommended apples are Baldwin or Greening.)
The curiosities lie in Mexican stew and the Columbia cake (seems we prefer desserts over savory…).
MEXICAN STEW
A large cupful of cold, cook and minced chicken. Take half the quantity of uncooked ham cut in very small dice, both fat and lean, and fry for a moment in a tablespoonful of butter, add the chicken, a teaspoonful of minced parsley, a dash of pepper, and when very hot stir in two heaping cupfuls of boiled seasoned rice. Toss all lightly together, and give just a dash of lemon juice. 
* Half the quantity of uncooked ham seems to be half the amount of the chicken – half a cup
** Not sure what seasonings might be used in the rice – perhaps Mexican/Tex-Mex influence?
_____

COLUMBIA CAKE
– Three eggs
– One teacupful sugar
– One tablespoonful butter
– One and one-half teacupfuls flour
– Half a teacupful of cold water
– One teaspoonful of baking powder
– One teacupful of chopped hickory nut meats

Beat the sugar and butter to a cream, add the yolks of the eggs, beat well, add the water, then the flour and baking powder; mix well, add the nut meats and then the well beaten whites of the eggs. 

And… that's it.
With cooking and baking handed down from cook to cook, it was assumed that the knowledge of how hot an oven and the duration of time for a cake is assumed. 
* 1 teacupful = 4 ounces / 1 cup = 8 ounces, thusly 1 teacupful may be half of a cup
** teacupful is an approximate measure – you would literally take a teacup and use it to measure ingredients / 2 teacups = 1 coffeecup (there's a wiki on approximate measurements – how many have you heard of?)
*** bake time try: 30-40 mins / bake temperature try: 325 to 450
---
In the food exploration: mascarpone cheese
Baking & cooking shows, a favorite of mine throughout the year, often mention adding mascarpone to mixtures. So we quested, to the fancy land of Lunds & Byerlys. (Actually the quest was for allspice, but since we were there… Opal apples and mascarpone!). Tucked by the fancy cheeses, somewhere between mozzarella and feta, in a quaint little tub, one of a kind. Snagged. 
The taste test: it's like an earthy, less tangy cream cheese
(cream cheese is a relative, made from milk, whereas mascarpone is made with cream.)
– eaten with: ginger cookies, in the dinner salad (the blue cheese took over) and on homemade banana bread
– tasty, super soft, spreads like butter
___
The next curious in food exploration: persimmons 
---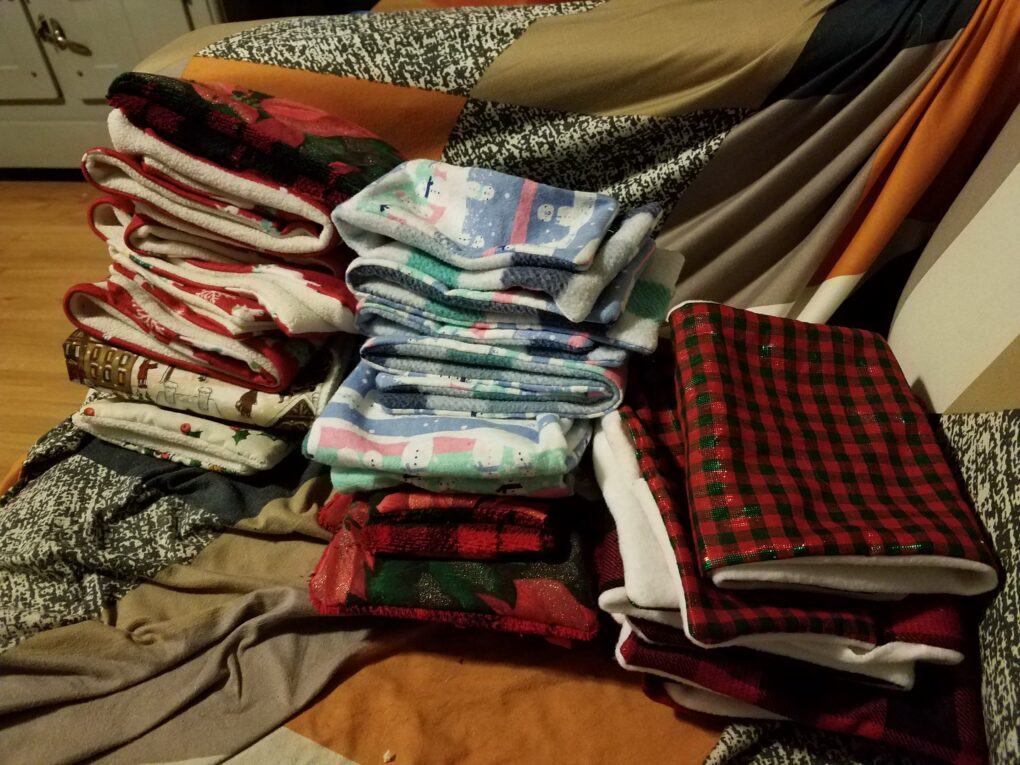 Atomic Collars has been sewing holiday scarves like elves on 5 Hour Energys the week before Christmas. (Double the amount in the picture above!). Yeehaw! 
The busy pace is brought to you for the prep of the upcoming Maker's Market in the Regency downtown St. Cloud on December 5th, from 9-2. Can't attend a holiday market without some holiday swag! There is t-minus 22 days to get sewing, snapping and labeling! We would totally love to see you by the way! The full details can be found here: https://www.makersmarketstcloud.com/
DATE: December 5th, 9 am – 2 pm, The Regency in downtown St. Cloud. 
___
PLUS Atomic Collars will be part of the Virtual Winter Artisan & Small Business Market, hosted by MPLS Parking. This virtual market runs from November 28th – December 18th and will feature tons of creative and artistic things for everyone in your family – grandparents, partner, children and furbabies! No formal link as of yet, but as soon as we have it we'll send it your way. Plus if you do your virtual shopping via the winter market, you'll get exclusive savings on Atomic Collars!
DATE: November 28th – December 18th, virtual
---
Snuggle in, do your early Black Friday shopping, give the Mexican stew a go and remember to be kind. 
If you need to get ahold of us (chit chat, scheduling your session, baking success or fail, etc) email:  / text or call 320-428-0135 / Facebook & Instagram
---