Twas the Friday before Christmas,
the tree aglow,
the presents below,
Lists were checked twice
seems this year everyone was mega nice!
Plans for epic gingerbread
danced as ideas in our head.
One week until the day,
we celebrate family and open gifts, hooray!
Indeed, we have entered into the week before Christmas. And what a whoosh this month has done in moving forward. Soon we'll be into the new year, full of resolutions and hope for a year of new "normal" to come. 
Tips for pictures of your dog with Christmas lights on a tree
The tree is decorated, with bulbs, ornaments and lights galore. How adorable would it be to capture your dog (or kids, or both) in front of the tree? MEGA adorable indeed!
Here are some tips to get those perfect Christmas light pictures:  
Decide if you want a silhouette or to see your dog
– silhouette = turn off the lights in the room minus the tree (the tree will be your light source)
– want to see your dog = leave the lights on in the room, add light if needed!
Move closer to your dog! Arm's length or closer! This will make the light turn into adorable little dots of light
Move your dog farther from the tree and move closer to him
Zoom in! Telephoto lenses (should work similar with zooming in on a cell phone) will make the background look closer to your dog plus the lights of the tree will look more out of focus (dots of light). 
 Using a fancy camera? Use a wide aperture! The most background blur will occur at f2.8-1.4. (If you don't have a lens with that wide of an aperture, zoom in and move closer to your dog to get more blur and dots of light.)
Guess who was thrilled to be the model this morning? Yup that would be sir Bender.
A quick rearrange of the living room, an handful of treats and the rug moved into position (Bender doesn't like to sit on the wood floor because he tends to slide) and we were in photography mode. 
 (Camera specs for the techy: Nikon Z6 II camera + adapter + Tamron 35-150mm f2.8-4 lens)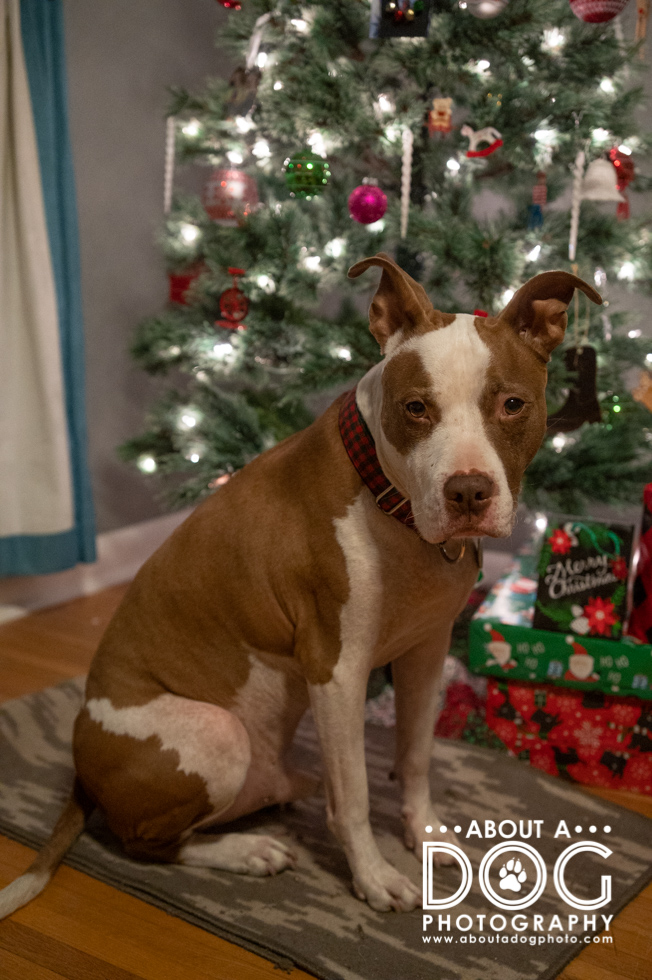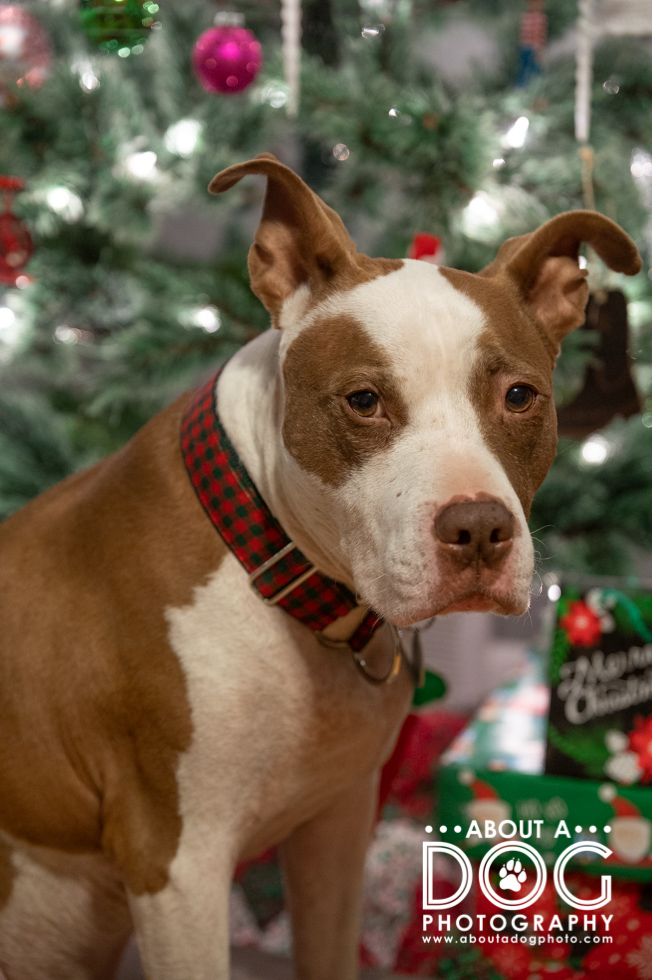 Sitting close to the tree.
46mm at f3 then zoomed to 85mm at f3.5. See how zooming in made a difference in the background and lights?
A little farther from the tree.
35mm at f2.8 then zoomed to 145mm at f4. See the difference in the background? Plus how Bender looks a little less like a bobblehead in the closer image? That's telephoto compression!
Farther from the tree.
62mm at f3.3 then zoomed to 102mm at f3.8. 
* Due to where the couch was, I was a bit farther back from Bender, which is why the full body image is a little more zoomed than the first two. Also notice how dark his eyes are – he was directly under the ceiling light. Direct overhead light isn't typically flattering. In this instance, I'd say add some light from the front, over your left or right shoulder.

Don't have a flash? Grab a lamp! Aim it the direction you need to fill in with light. No lampshade will be a hard & bright light, while a lampshade will diffuse the light making it softer and dimmer. 
Popped over to Paynesville for a visit and brought along the Z6 II (newest in the arsenal & it's mirrorless!).
Axle was ecstatic to see me and was insistent on being petted. He's the dog who will use his paw to pull your hand towards him if you stop giving him chest scritches. 
Oh the greys! What a world of difference a few years makes! 2020 vs 2016. Awwww… he will be turning 10 this year!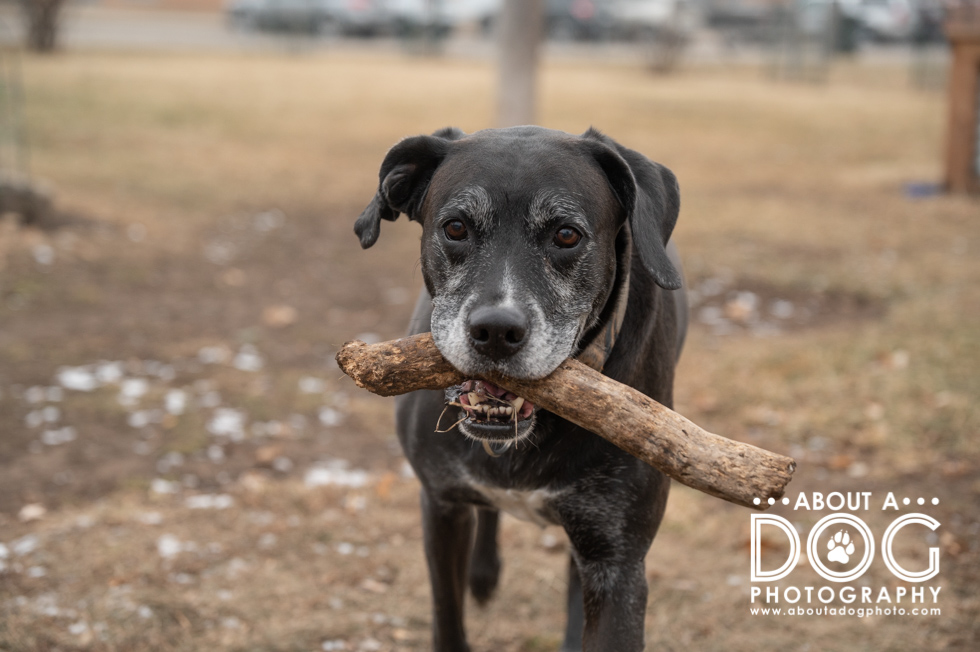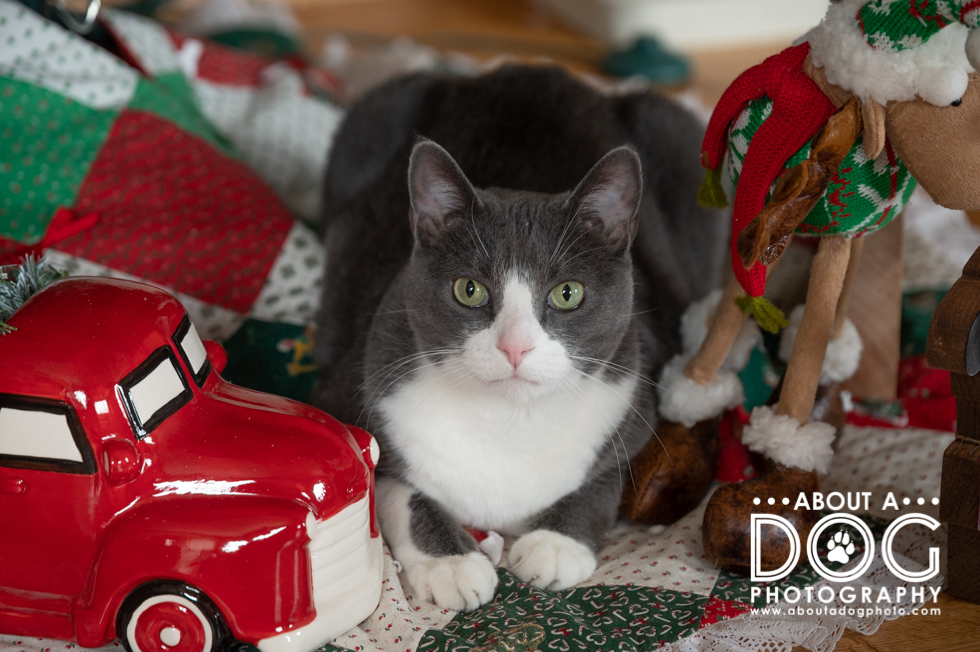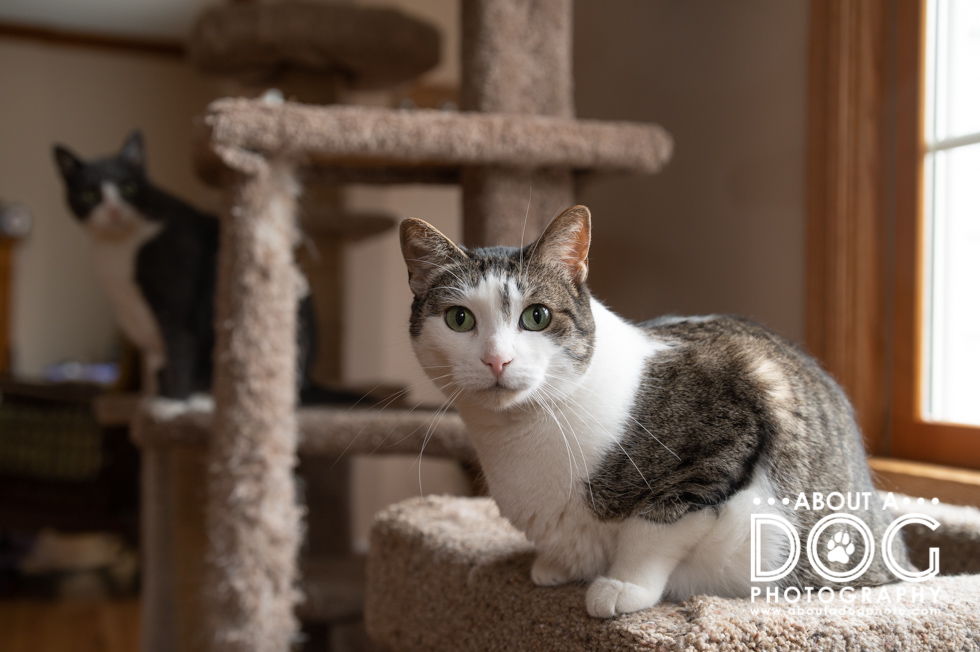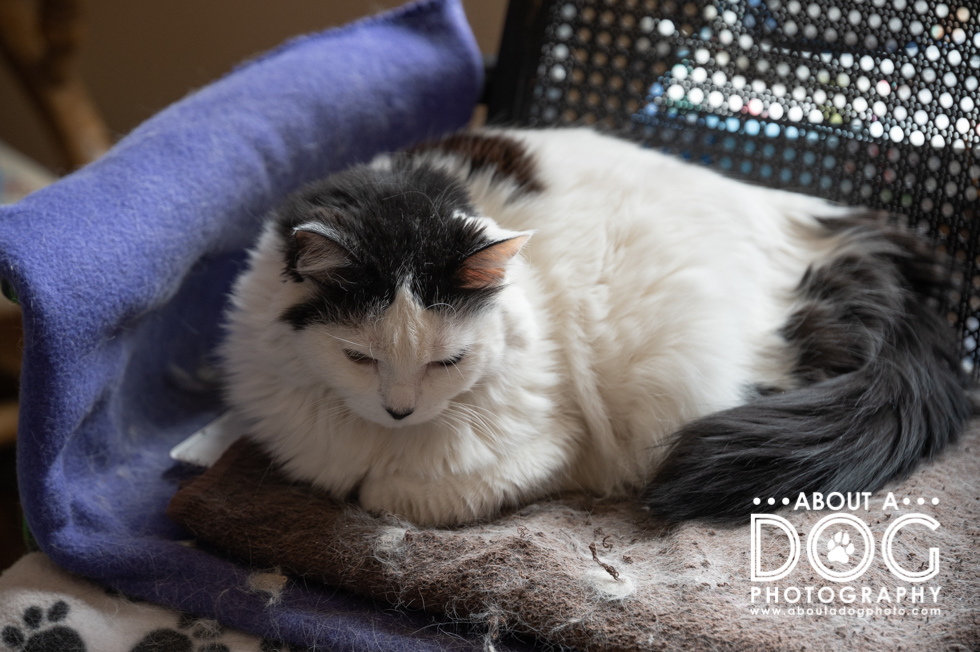 Onward to the vintage recipes!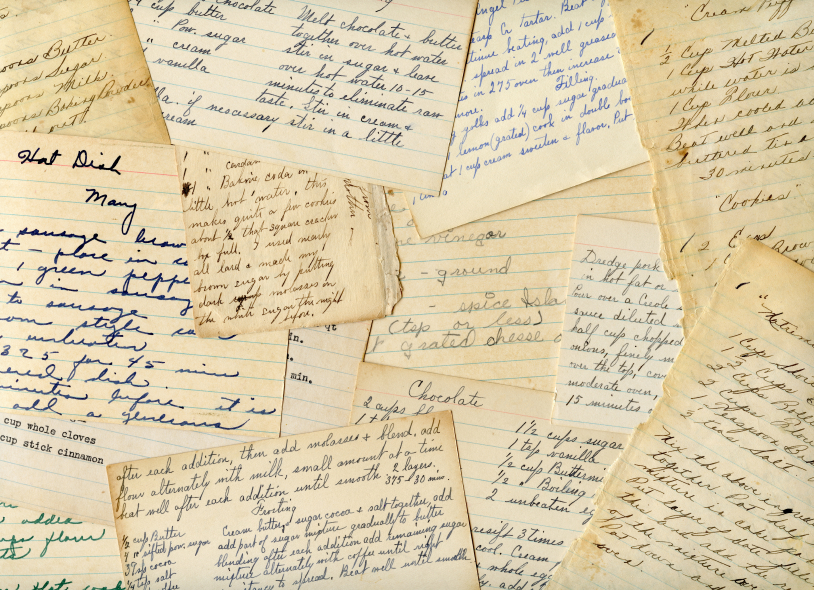 A side note before we launch into a vintage Christmas dinner – we found a cookbook for dogs! It's called "They Everything Cooking for Dogs Book" by Lisa Fortunato. It features 150 recipes that are for dogs, and sound tasty enough for people to have too! The future may have us pulling some of those recipes to share with you!
Onward! The menu for Christmas was submitted by Miss M. E. Wright of Cairo, Ill. It may be the most in depth for recipes in the 1896 cookbook, spanning from page 579 to page 581.
BREAKFAST
Fruit
Maizena and cream
Potato and ham sandwiches
Finger biscuits
Raised flannel cakes
Coffee
DINNER
Raw oysters with sliced lemon
Thin bread and butter
Tomato bisque
Lobster chops
Roast goose, apple sauce
Giblet gravy
Stuffed onions
Mashed potatoes
Wild cherry and almond sorbet
Celery salad with mayonnaise dressing
Grated cheese
Salted wafers
Christmas pudding – foam sauce
Kisses filled with whipped cream
Grapes
Nuts
Dates
Coffee
LATE LUNCHEON
Slices of roast goose – deviled
Celery salad with sandwiches
Cocoa
Fruit
A rather robust and filling menu! Most likely dinner was served between noon & 3 pm, hence the late luncheon of a lighter meal that follows. Recipes included under the entry: Potato and Ham Sandwiches, Finger Biscuits, Raised Flannel Cakes, Lobster Chops, Roast Goose, Giblet Gravy, Stuffed Onions, Wild Cherry and Almond Sorbet, Christmas Pudding, Foam Sauce and "Devil" for Slices of Goose. 
Maizena = brand of corn starch (yes you can still get it today!)
The eye catchers for recipes: Finger Biscuits, Raised Flannel Cakes, Wild Cherry and Almond Sorbert and that lovely Roast Goose. 
FINGER BISCUITS
Mix and sift three times one quart flour, two heaping teaspoonfuls of baking powder and a teaspoonful of salt. Stir in sweet milk enough to make a soft dough. Flour the breadboard and turn out the dough on it, touching it as little as may be. Beat to a cream two tablespoonfuls butter, one teaspoonful lard and one tablespoonful sugar. Spread this on the dough, double the dough over it, flour it slightly and press it out with the rolling-pin half an inch thick. With a knife cut the dough into strips finger length. Lay them close together in the pan and bake in a quick oven. They are peculiarly delicate. 
* sweet milk = regular milk
* quick oven = 400-425
* assumed time – try 8-10 minutes

** Share with your pupper – in moderation! All the ingredients are dog friendly!
RAISED FLANNEL CAKES
Boil a pint and a half of sweet milk and let it stand till lukewarm. Add two large tablespoonfuls yeast and pour upon one pint flour, one-half pint cornmeal; one teaspoonful salt and one tablespoonful sugar, mixed well together. Cover closely and put in a warm place. In the morning add two eggs, beaten separately. Let the batter stand fifteen minutes, if convenient, after adding the eggs. Bake on a hot griddle. 
* sweet milk = regular milk
* one-half pint = 1 cup

** flannel cakes are similar to pancakes, give them a flip while you bake them on a hot griddle
** Share with your dog – all the ingredients are dog friendly – remember moderation!
WILD CHERRY AND ALMOND SORBET
One quart water, one pint white sugar, juice of one lemon, six sweet almonds, blanched and pounded; one bitter almond, a wineglassful of wild cherry sirup. Freeze in a freezer; when half frozen add the beaten whites of three eggs. Serve in glass cups. The yolks of the eggs can be used in the mayonnaise dressing for the celery salad. 
*wineglassful = 2 oz = 1/4 cup

* sweet almonds are the ones you snack on, bitter almonds contain cyanide – don't eat them raw! Better to use an almond extract. Exact amount – seems it's better to err less with the extract.
** DON'T SHARE with your dog! Almonds aren't good for dogs!
ROAST GOOSE
Select a young goose, which can be told by a brittle windpipe, white skin, plump breast and yellow feet; the web should tear easily. An old goose is known by its red feet. Singe, draw, wash and wipe the goose. Beat the breast flat with a rolling-pin, draw up the legs and skewer both legs and wings close to the body. Stuff with the following dressing: One pint stale bread crumbs, two medium-sized onions boiled and mashed, one-half teacupful boiled rice, one teaspoonful powdered sage, one half teaspoonful salt, one-fourth teaspoonful pepper, one tablespoonful melted butter and one-half teacupful milk. Roast in a covered pan, allowing rather more than twenty minutes to the pound. Baste frequently with the following mixture: One teaspoonful made mustard, a saltspoonful salt, a dash of cayenne, a large tablespoonful melted butter, a teacupful hot water, a teaspoonful vinegar. This basting is a great improvement. 
* one-half teacupful = 2 oz = 1/4 cup
* saltspoonful = 1/4 teaspoon
* teacupful = 4 oz = 1/2 cup 

** If you don't wan't to singe, draw (remove the insides), wash & wipe the goose, you can opt for a ready to go goose. There's a company in South Dakota that produces geese for eating – Schiltz Foods. A young goose is going to cost $95-150ish, pending size. They also offer smoked and preroasted geese!
We hope you will have a wonderful Christmas filled with cheer, love and family (in a safe way). Kris, Bender, Axle and I send our love to you (if you want a Christmas card, its more likely you'll get a winter greetings vs Christmas card! Hahaha!).
If you want to send us a card drop us an email – or text us at 320-428-0135 and we'll send you our address!
Have a wonderful week before Christmas!